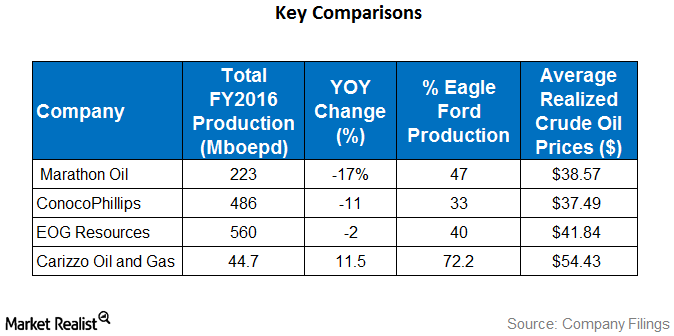 Production Profiles of Key Eagle Ford Oil and Gas Companies
Eagle Ford producers
As shown in the image above, all the above companies have at least one-third of their production coming in from the Eagle Ford. While Carizzo Oil and Gas saw a YoY (year-over-year) increase in production in 2016, Marathon, ConocoPhillips, and EOG Resources saw declines of 17%, 11%, and 2%, respectively.
Comparing these figures with those of producers in oil-rich regions such as the Permian Basin and the Bakken, we note that Concho Resources (CXO) and Apache (APA) saw YoY production increases of 5% and -5.5%, respectively.
Top players in the Bakken include Continental Resources (CLR) and Whiting Petroleum. In 2016, these companies saw their production fall 2.2% and 20.2%, respectively, YoY.
Article continues below advertisement
Average realized prices
Carrizo Oil and Gas saw the highest realized crude oil price, including the effect of hedges, in 2016. EOG Resources, Marathon, and ConocoPhillips saw lower realized prices. Concho Resources' crude oil price was $57.90. APA's realized crude oil price was $41.63 per barrel of oil equivalent, and Continental Resources' average realized price of crude oil (excluding hedges) was $35.51 per barrel. Whiting Petroleum's average realized price for crude oil was $49.26 per barrel in 4Q16.