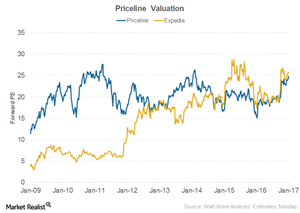 Priceline's Valuations for 2017: What Is Priced In?
By Ally Schmidt

Updated
Current valuation
Priceline (PCLN) currently trades at a forward PE (price-to-earnings) multiple of 25.2x. This is significantly higher than its average valuation of 21.8x since February 2006. It is also higher than rival Expedia's (EXPE) forward PE multiple of 22x.
The market is expecting Priceline's EBITDA[1. earnings before interest, tax, depreciation, and amortization] to grow 15% in 2017 and then grow 16.4% in 2018. Rival Expedia's EBITDA is expected to grow at a slower rate of 13.5% in 2017, and then increase to 21% growth in 2018.
The market is expecting Priceline's earnings per share (or EPS) to grow 13.2% in 2017. Rival Expedia's EPS is expected to grow at a higher rate of 20.5% in 2017.
As can be seen from the chart above, Priceline has mostly traded above Expedia since 2006, moving below Expedia only in 2015. Among Priceline's competitors, TripAdvisor (TRIP) and Ctrip.com (CTRP) are not strictly comparable and are excluded from this analysis.
Article continues below advertisement
Our analysis
Priceline's (PCLN) business is heavily dependent on how travel demand grows and on the shift to online booking. Growing consumer disposable income and lower airfares are expected to bode well for the industry.
However, all this depends on global economic conditions, which remain uncertain. Declining growth in major Eurozone economies, the risk of deflation, rising sovereign debt, and uncertainty generated by Donald Trump's policies put a question mark on the economic outlook. In such a situation, adverse measures by the affected governments could impact travel demand.
These trends could weaken hotel average daily rates (or ADRs), as consumers may prefer to book low ADR accommodations. This could be a significant negative for Priceline, as this scenario would adversely impact PCLN's key revenue driver—hotels.
Also, the strengthening US dollar could continue to act as a subduing factor, and investors should keep a track of the dollar's trends. Investors should also keep an eye on Priceline's (PCLN) increasing leverage, which could increase the stock's volatility.
Priceline forms 9.3% of the NASDAQ Internet Portfolio ETF's (PNQI) holdings.