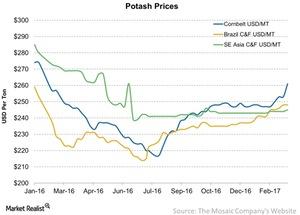 Potash Prices Rose during the Week Ending March 3
By Adam Jones

Updated
Muriate of potash prices
MOP (muriate of potash) is the key potash fertilizer (SOIL) used globally. Like fertilizer prices, MOP prices have fallen significantly over the years. Falling potash prices had a negative impact on PotashCorp (POT) in the fourth quarter.
PotashCorp's recent earnings just showed how painful the recovery has been. However, producers see a bright spot in 2017 with inventory running low. Read What 2017 Could Hold for Potash Producers to learn more. Let's see how potash prices performed last week.
Potash prices
For the week ending March 3, 2017, potash prices were flat to positive. In the US Corn Belt, average weekly granular potash prices rose 3.2% to $237 per metric ton week-over-week. Similarly, standard MOP prices in Southeast Asia rose by 41 basis points to $245 per metric ton from $244 per metric ton a week ago. However, average weekly prices in Brazil remained flat at $248 per metric ton—compared to the previous week.
Positive moves in potash prices are key to potash producers' stock such as Intrepid Potash (IPI), Mosaic (MOS), and Israel Chemicals (ICL). These companies faced severe weakness in the market last year. On average, potash prices rose 5% from the same week last year. Next, let's look at how the Fertilizer Affordability Index performed last week.