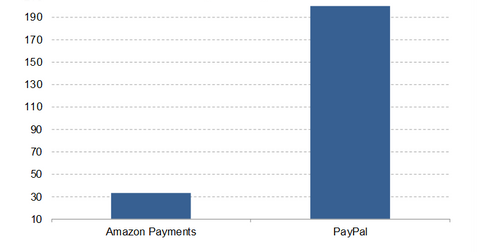 PayPal or Amazon Payments: Which Is the Steeper Hill to Climb?
By Neha Gupta

Updated
PayPal is growing more rapidly
PayPal (PYPL), the king of digital payments, has nearly 200.0 million active customer accounts. Amazon Payments, a rival service by e-commerce giant Amazon (AMZN), boasts 33.0 million users.
PayPal added ~21.0 million new active users over the last year. Amazon Payments added ~12.0 million users over the same period. As such, PayPal is adding new users faster than Amazon Payments despite Amazon's already large size.
In the above graph, you can see how PayPal and Amazon Payments compare by users. But both services have their growth challenges.
Article continues below advertisement
Competitors have their sights on PayPal
As the originator of digital payments, PayPal faces stiff competition from payment services such as Amazon Payment, Alipay, and JD Finance, which are all affiliated with e-commerce providers. But it also faces competition from stand-alone payment processors such as Square (SQ) and Visa (V).
To protect its market share, PayPal has been adding features aimed at making the service more appealing to merchants and consumers. The PayPal Business app (application), for instance, is targeted at merchants and offers more than basic payment processing. It also supports automatic customer billing and the ability to gain customer insights that companies can use to drive sales. PayPal's One Touch feature simplifies the checkout process since users don't have to sign in every time they want to complete a transaction.
Amazon affiliation is costing Amazon Payments
Amazon Payment's affiliation with Amazon means that retailers such as Walmart (WMT) could be reluctant to endorse it since the payment option would be like supporting the enemy. The service may end up serving mostly Amazon shoppers and shoppers on startup e-commerce platforms that don't see Amazon as a serious threat to their existence.