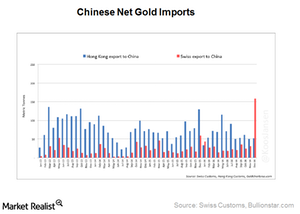 The Outlook for Asian Gold Demand in 2017
By Anuradha Garg

Nov. 20 2020, Updated 1:03 p.m. ET
Physical gold demand
India and China constitute ~50% of the global demand for physical gold. These markets are price sensitive, so when gold prices fall, physical gold-buying in these markets provides support for gold. In this article, we'll see if demand from India and China could accelerate in 2017.
Article continues below advertisement
Indian gold demand
India's demand for gold has been subdued for the last couple of months, mainly due to demonetization. The surge in gold prices in 2016 also didn't help physical demand in India. India's demand for gold in 2016 was the weakest it had been since 2009.
While gold demand was ~600 tons in 2016, the World Gold Council (or WGC) expects it to reach 650–700 tons in 2017. According to the WGC, as cited by The Hindu, "It's clear that India's gold market faces short-term headwinds." However, it added that "looking ahead, these policies promise to deliver a stronger and more transparent economy. This will support gold demand."
Chinese demand
China's gold imports for 2016 totaled ~1,300 tons, down 17% year-over-year. Shanghai Gold Exchange (or SGE) gold withdrawals were at their lowest in four years. To stem the fall of the Chinese yuan against the dollar, China is believed to have restricted gold imports through quotas allotted to banks. This move has weakened the ability to purchase gold in the country.
So far in 2017, demand has, however, been quite strong. The combined figures for January and February 2017 for SGE withdrawals imply an increase of 9.3% year-over-year.
The WGC believes that both of these markets will continue to drive gold demand despite short-term headwinds. In the medium-to-long term, the cash crunch in India should ease, and China should lift its restrictions. These developments could support gold prices (GLD) as well as gold miners such as Sibanye Gold (SBGL), B2G Gold (BTG), Primero Mining (PPP), and Alacer Gold (ASR).