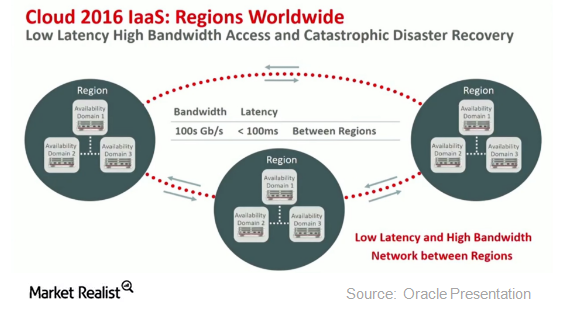 Oracle's Focus on IaaS: A Need Rather Than an Opportunity
By Anne Shields

Dec. 4 2020, Updated 10:52 a.m. ET
IaaS
Previously in this series, we discussed Oracle's (ORCL) improving stance in the cloud and its focus on the IaaS (infrastructure-as-a-service) space. We also discussed Oracle's strategy to promote its own cloud platform as a cheaper alternative to Amazon's (AMZN) AWS in the IaaS space.
IaaS is a competitive space dominated by Amazon's AWS and Microsoft's (MSFT) Azure. Both companies have priced the offering in such a way that there isn't much room to lower their prices. Google (GOOG) also adopted the low-pricing approach to gain market share in this space. IaaS appears to be heavily commoditized, making it a low-margin business.
Article continues below advertisement
Oracle's cloud migration could be at the expense of its customer base
Oracle's (ORCL) new Software Licensing segment's revenues declined in fiscal 3Q17, falling 15.8% to ~$1.4 billion. This decline was expected as the company continues its transition toward the cloud.
We saw the same trend with Oracle's Hardware business, which comprises x86 servers, storage, and engineered systems. The Hardware segment's revenues fell ~9.5% to ~$1.0 billion. These figures indicate that although Oracle is making a successful transition to the cloud, it's losing its hold on its customer stickiness.
Earlier in this series, we discussed Oracle's increased focus on IaaS as a way of averting its customers from defecting to other databases, especially Amazon's offering.