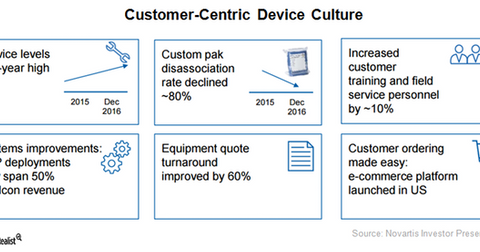 Novartis Aims to Turn Around Its Surgical Business in 2017
By Margaret Patrick

Updated
Surgical business trends
In 2016, the surgical business of Alcon, Novartis's (NVS) Consumables segment, witnessed a solid demand trend. However, the equipment business reported flat revenue growth on a year-over-year (or YoY) basis in 2016. This flat growth was mainly attributed to a robust performance in 2015 coupled with increasing market maturity in developed economies and economic issues in emerging markets.
Novartis' intraocular lenses (or IOL) business also suffered due to service and supply-side issues, which culminated in an escalation of competitive pressures. While supply issues negatively affected Alcon's customer service in 3Q16, the company has been gradually improving its service levels in 2017.
In the event that improved customer service levels help to boost Alcon's revenue growth in 2017, Novartis's share price could see a positive impact, as could the price of the Vanguard International Dividend Appreciation ETF (VIGI). Novartis makes up ~3.4% of VIGI's total portfolio holdings.
Article continues below advertisement
Customer-centric service
By the end of 2016, Novartis had managed to significantly improve the customer service levels of its Alcon business.
The company also reduced its custom pack dissociation rate by ~80% in 2016. The custom pack dissociation rate pertains to the custom packs that Novartis sells for performing cataract procedures. Since every pack contains 20–30 different items, there would be multiple instances of missing items in these packs, requiring the company's sales representatives to visit the customer and substitute the item. 
These trips and substitutions resulted in wasted time for the sales representatives and ultimately suboptimal resource utilization for the company. Controlling the custom pack dissociation rate is expected to become a positive growth driver for the company in 2017.
To boost its surgical equipment sales and compete effectively with medical device players such as Medtronic (MDT), Johnson & Johnson (JNJ), and Covidien (COV), Novartis has focused on educating surgeons on the use of its equipment.
The company has installed an SAP system for its Alcon business in the United States, which has improved the turnaround time for its contracts. Finally, the company has also launched an e-commerce platform in the United States to simplify the ordering process for its customers.
These developments in customer service could play a pivotal role in turning Novartis' surgical business around in 2017.
In the next article, we'll discuss Novartis's 2017 strategy for its Alcon segment.