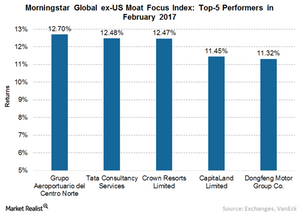 Why International Moats Are Getting Investors' Attention
By VanEck

Mar. 28 2017, Updated 7:37 a.m. ET
VanEck
International Moats: Catch Me if You Can
Mexican airport operator, Grupo Aeroportuario del Centro Norte (OMAB MM, +12.70%), and its efficient scale source of moat, had a strong month as central Mexico air traffic increased year-over-year despite political turmoil and a weakened peso. In Australia, casino operator Crown Resorts Ltd. (CWN AU, +12.47%) offered strong returns despite controversy in China. According to Morningstar, the firm boasts defensive earnings quality and an attractive growth profile. Also contributing to the International Moat Index's performance in February were healthcare companies out of Australia, Sweden, and the United Kingdom. Real estate firms in Singapore and Hong Kong also helped drive performance for the month.
Article continues below advertisement
Market Realist
International moats offer quality and attractive growth
As US domestic moats (MOAT) (WFC) (AMZN) move higher, international moats (MOTI) are not far behind. Many constituents in developed and emerging markets are trending higher, boosting the overall index. Grupo Aeroportuario del Centro Norte performed well due to solid financial results in 4Q16. The company reported 27% growth in aeronautical and non-aeronautical revenue, while passenger traffic increased by 12.5% during the period. The company's adjusted EBITDA (earnings before interest, tax, depreciation, and amortization) rose 35.2%, while its net income rose 43.7%. Tata Consultancy Services, India's largest software company by revenue, climbed 12.5% after its quarterly results beat analyst estimates.
Other top performers
As some US healthcare stocks struggled due to domestic issues, companies in other developed markets performed well. Elekta, a Swedish provider of diagnostic equipment and software, was up 8.5%, followed by British pharmaceutical company GlaxoSmithKline (GSK), which gained 7.9%. Ramsay Health Care, Australia's largest operator of private hospitals, was up 4.5%.
Real estate stocks in Singapore climbed higher due to the easing of some property market restrictions. CapitaLand, one of Asia's largest real estate companies, was up 10.6%, and CapitaLand Commercial Trust rose 2.6%.
While Singapore eased restrictions, Hong Kong tightened some rules in November. However, the new regulations had little impact on the property market in Hong Kong, with prices rising to all-time highs amid rising demand. Higher demand and surging property prices boosted property stocks, with moat index constituents reporting handsome gains in February. Swire Properties rose 6.6%, Sun Hung Kai Properties rose 5.7%, and Cheung Kong Property Holdings rose 2.7%.