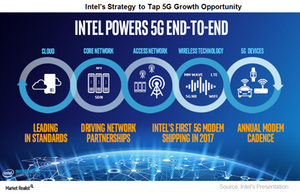 Where Does Mobile Fit into Intel's 5G Strategy?
By Puja Tayal

Updated
Intel and Apple
In 2016, Intel (INTC) secured a 50.0% modem order for Apple's (AAPL) iPhone 7 from Qualcomm (QCOM) by offering non-CDMA (code division multiple access) modems for the phone. Intel is now positioning itself to take the complete iPhone modem business with its new CDMA LTE (Long-Term Evolution) modem XMM 7560, which is believed to compete with Qualcomm's Snapdragon X16. Both modems support a 1.0 gigabit per second download speed.
Intel could start sampling XMM 7560 in the first half of 2017, but Susquehanna analysts don't expect the modem to reach the market before 2018. That's because Apple and US carriers may have a lengthy qualification process.
If Intel becomes Apple's exclusive modem supplier, Intel could earn $800.0 million–$1.1 billion in revenue, and Qualcomm could lose $1.0 billion–$1.4 billion in revenue, according to Susquehanna estimates. Intel is also looking to give Qualcomm a tough fight in 5G (fifth generation).
Article continues below advertisement
Intel's 5G strategy
Intel stated that 5G is not only about high broadband speeds but also about connecting multiple devices simultaneously and allowing a seamless flow of information. That requires networks to run on a generic hardware and be backed by reprogrammable and reliable software. Since Intel is already present in almost all IoT (Internet of Things) devices and data centers, it's now developing a network infrastructure that supports 5G.
The company is engaging with government agencies and industry associations and partnering with mobile handset makers such as Nokia, Ericsson (ERIC), and Huawei to set the technical standards for how 5G will operate.
Intel has started 5G trials with carriers such as Verizon (VZ), AT&T (T), and China Mobile. It has also unveiled its first 5G modem, which it plans to start sampling in the second half of 2017.
Intel inside mobile 
Nokia is using Intel's architecture and 5G modem for its 5G First solution. It's comprised of Nokia's radio access network, Nokia AirScale MIMO[1. multiple input, multiple output] Adaptive Antennas, packet core, and mobile transport solutions.
Samsung (SSNLF) is using Intel's 7th-Generation Core processors in its two new Galaxy Book devices that deliver an experience similar to a PC (personal computer).
Spreadtrum Communications unveiled its new 5-Mode LTE SoC (system on chip) based on Intel's Airmont architecture and 14nm (nanometer) node for mid and high-end smartphones.
Intel isn't looking to reenter the mobile processor market directly. Instead, it's planning to use this technology to tap a larger market of IoT.
In the next part of this series, we'll take a look at Intel's IoT strategy.