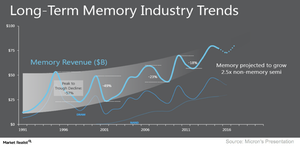 Micron Technology's Story Shifts from DRAM to NAND
By Puja Tayal

Updated
Micron recovers from down period
In one year, Micron Technology (MU) has moved from an earnings downtrend to an earnings uptrend. Weak PC demand and declining DRAM (dynamic random access memory) prices in 1H16 were offset by strong demand momentum and increasing DRAM prices in 2H16. This change in the DRAM market saw Micron Technology complete the acquisition of DRAM manufacturer Inotera.
In 12 months, Micron Technology stock rose 123% to $25.80 as DRAM spot prices rose. Analysts expect MU stock to reach $30. Its current boom phase, like its past boom phases, is being driven by improving conditions in the DRAM market. This growth would phase out as DRAM spot prices start declining over the remainder of 2017.
Article continues below advertisement
After slipping into losses during the 2015–2016 downturn, Micron Technology is now making some operational improvements to be better prepared for the next downturn. The company is shifting its focus from DRAM to NAND. In 2016, it ramped up production of 20nm (nanometer) DRAM and 3D NAND Generation 1 and started manufacturing 1X DRAM and 3D NAND Gen 2.
Long-term memory industry trends
If we look at the growth trend of the memory industry, every peak cycle was followed by a sharp decline. However, the rate of decline slowed with every cycle as the supply market consolidated and memory demand diversified away from PCs into smartphones. This caused a peak cycle in 2007 when Apple (AAPL) launched its iPhone and then moved into the cloud, which caused another peak cycle in 2011.
The current peak cycle is being driven by the data economy, AI (artificial intelligence), VR (virtual reality), and autonomous cars. Nvidia (NVDA) is using Micron Technology's GDDR5X memory in its latest GPUs (graphics processing units) that support VR. As the end markets diversify further, the memory market would become less volatile.
In the next three to five years, Micron Technology expects the memory market to grow 2.5x faster than the rest of the semiconductor industry (QQQ) excluding memory.
Micron shifts from DRAM to NAND 
Until now, Micron Technology (MU) focused largely on DRAM, acquiring DRAM manufacturers, and moving to 20nm and 1X DRAM, as its planar NAND did not generate good returns. DRAM accounted for 60% of its revenues in fiscal 2016. However, things are changing as its transition to 3D NAND comes at a time when the NAND market is facing a supply shortage as other NAND manufacturers transition to 3D technology.
Micron Technology could gain significant share in the NAND market in 2017 and beyond until competitors bring their NAND output to the market. In this series, we'll see how fiscal 2017 could turn out for MU.