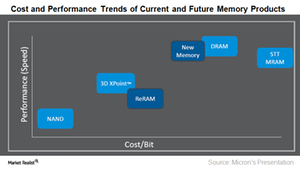 Micron and Intel Compete for 3D XPoint Market Share
By Puja Tayal

Mar. 29 2017, Updated 9:05 a.m. ET
3D XPoint technology
In the earlier few parts of this series, we saw how Micron Technology (MU) is allocating capital in DRAM (dynamic random access memory) and NAND technology. The company is also allocating ~$1.1 billion on new technology and enablement of 3D XPoint, which it developed in collaboration with Intel (INTC).
Micron Technology's chief financial officer, Ernie Maddock, stated that the most significant challenge for a new technology is to find an intercept point where it becomes useful. The 3D XPoint technology appears to be at that intercept point.
Article continues below advertisement
3D XPoint's cost per bit performance
Cost and performance are two main factors that drive implementation of new technology. Like 3D NAND, 3D XPoint has a significant scope for reducing costs over the next few years, according to Maddock. With continuous development, 3D XPoint would have a moving target to reduce the cost to the level that makes it significant and, at the same time, useful in the market.
Micron Technology is developing 3D XPoint technology under the QuantX brand and is currently in the market enablement phase. It is looking at ways to make this technology add value in some reasonably sized markets like storage and server and place it in high-performance markets where DRAM's scaling capability is slowing.
Maddock did not provide details about its 3D XPoint technology at the 2017 Analyst Day. However, he stated that the technology would start contributing toward the company's revenues in 2017. The company expects 3D XPoint to account for 5% of its fiscal 2018 revenues.
Intel's 3D XPoint technology hits the market
While Micron Technology (MU) is still in the enablement phase, Intel has launched its first 3D XPoint-based product Optane DC P4800X SSD (solid-state drive) targeted at the data center market. Intel expects to generate 10% of its memory revenues in 2017 from 3D XPoint.
Intel claims that the 3D XPoint technology can speed up machine learning tasks like fraud detection, retail purchase recommendations, and autonomous driving. The company is looking to offer this chip along with its data center products to make them more attractive and competitive with Nvidia's (NVDA) Tesla GPUs (graphics processing units) used in AI (artificial intelligence).
Intel stated that manufacturing of 3D XPoint chips is material intensive and involves several steps. Although it can be manufactured in conventional plants, achieving higher yield is difficult. Intel's new SSD starts at $1,520 for 375 gigabytes, which equates to ~$4 per gigabyte. 
The new SSD costs less than DRAM, which costs $4.50–$5.00 per gigabyte but higher than NAND, which costs $0.20–$0.25 per gigabyte, according to Jim Handy, an analyst with Objective Analysis. Intel aims to reduce the cost of manufacturing the new technology and bring it closer to that of NAND.