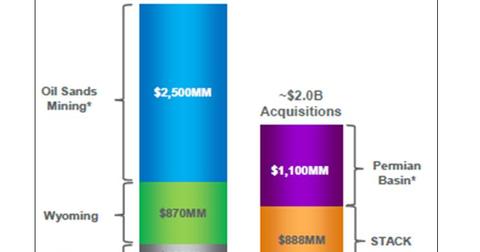 Marathon Oil's Advantages Due to Its Exit from Oil Sands Mining
By Nicholas Chapman

Updated
Divestiture
On March 9, 2017, crude oil (USO) and natural gas (UNG) producer Marathon Oil (MRO) announced an agreement to sell its OSM (Oil Sands Mining) business assets located in Canada to Royal Dutch Shell (RDS.A) (RDS.B) and Canadian Natural Resources (CNQ). This transformative asset sale would mark MRO's complete exit from Canada.
According to MRO's press release, key highlights of this divestiture are:
Marathon Oil would receive $2.5 billion in cash.
The sale proceeds would be paid in two installments. The first installment of ~$1.8 billion would be paid once the transaction is closed, and the remaining amount would be paid in 1Q18.
The sale price of $2.5 billion is ~15x the cash flow from operations generated by MRO's OSM business in 2016.
The sale includes ~692 MMBoe (million barrels of oil equivalent) of synthetic crude oil proved reserves.
The OSM asset sale is expected to close in mid-2017, pending customary closing conditions. The transaction has an effective date of January 1, 2017.
Article continues below advertisement
What are MRO's advantages due to OSM exit?
While commenting on the benefits of the divestitures on March 9, Marathon Oil's (MRO) president and CEO, Lee Tillman, said, "Historically, our interest in the Canadian oil sands has represented about a third of our Company's other operating and production expenses, yet only about 12 percent of our production volumes."
In 2016, Marathon Oil's Oil Sands Mining business produced 48 Mboepd (thousand barrels of oil equivalent per day) of synthetic crude oil. MRO's total production in 2016 stood at 393 Mboepd. Due to the OSM sale, MRO is projecting an ~25% reduction in its 2017 production and operating expenses.
Marathon Oil's second benefit would be reduced focus and lower capital requirements for non-operated businesses. The Canadian Oil Sands Mining business was MRO's non-operated business, with ~20% interest in the Athabasca Oil Sands Project. In 2016, MRO spent ~$33 million on OSM capital expenditures. Compare this with MRO's total capital expenditures of ~$1.1 billion in the same year.
Marathon Oil's third benefit would be more financial flexibility, as it plans to use the divestiture's proceeds for new acquisitions or reduction of debt. Along with the OSM divestiture, MRO announced its entry into the Permian Basin by means of an acquisition. We'll study MRO's Permian acquisition in the next part.