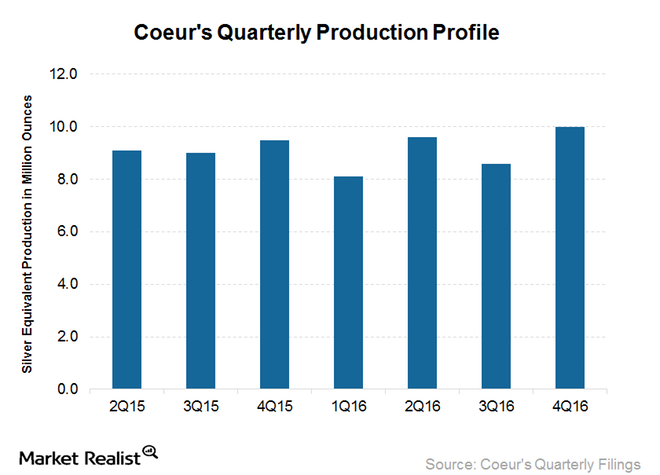 Could Coeur Mining See Production Growth in 2017 and Beyond?
Production guidance
In 4Q16, Coeur Mining (CDE) reported a record quarterly silver equivalent production of 10.0 million ounces. Silver production was 3.9 million ounces, and gold was 102,500 ounces. That took 2016 production to 14.8 million ounces for silver, which is in line with the company's guidance of 14.4 million–15.7 million ounces.
Coeur expects its 2017 production to be 16.4 million–18.0 million ounces for silver and 362,000–387,000 ounces for gold. That implies a silver equivalent production of 38.1 million–41.2 million ounces. At the midpoint of this guidance range, expected production growth is 9.0% YoY (year-over-year).
Article continues below advertisement
Production growth drivers
The Palmarejo mine complex is Coeur Mining's silver and gold mine in Mexico. In 2016, Palmarejo produced 4.4 million ounces of silver and 73,913 ounces of gold. That's in line with the company's guidance. Coeur expects to increase the mining rate at its Guadalupe and Independencia complexes at Palmarejo to 4,500 tons per day in 2017 compared to an average of 2,500 tons per day in 2016.
Construction of the Stage IV leach pad expansion for the Rochester mine is on schedule and on budget with commissioning expected in early 3Q17.
For Kensington, production in the fourth quarter was the highest for the year, rising 27.0% quarter-over-quarter. Gold production at its Wharf mine in South Dakota was also the highest for the year at 30,675 ounces. The company expects a lower production from Wharf in 2017 at 85,000–90,000 ounces due to the anticipated completion of mining at the higher-grade Golden Reward deposit in mid-2017.