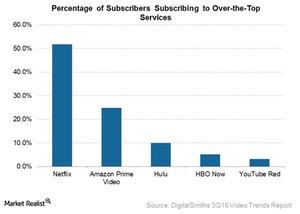 Key Growth Drivers for Time Warner in International Markets
By Shirley Pelts

Updated
Time Warner's international content distribution strategy
As Millennials increasingly prefer to watch content online, media companies such as Time Warner (TWX) are increasingly looking at distributing content digitally. Time Warner (TWX) was asked about its content distribution strategy in international markets at the Deutsche Bank Media, Internet and Telecom Conference in the first week of March 2017.
Time Warner stated that outside the United States (SPY), it believed that it had a strong position when it comes to the distribution of its content through AT&T's (T) DIRECTV in Latin America and Mexico or through its linear television networks like Turner Broadcasting System, HBO, and Warner Bros.
Article continues below advertisement
Time Warner also stated that it is currently focusing on extending its presence in Eastern Europe and Asia, as it is present on a smaller scale in these territories. The company stated during its fiscal 2016 earnings call that over the last couple of years, it had been trying to capitalize on the trend of viewers watching content through SVOD[1. subscription video on demand] and VOD[2. video on demand] platforms.
The company added that in countries such as India (EPI) and Brazil, viewers prefer to watch content differently than viewers in European countries.
Rising trend of viewing content online
One reason for Time Warner's interest in online platforms has been that viewers, particularly Millennials, are increasingly watching content online due to the low cost of viewing content and the ease of watching content anytime and anywhere.
According to the Digitalsmiths 3Q16 video trend report, Netflix leads the OTT market with a 51.8% share, followed by Amazon (AMZN) at 24.8%. In contrast, HBO Now has a market share of 5.2%.