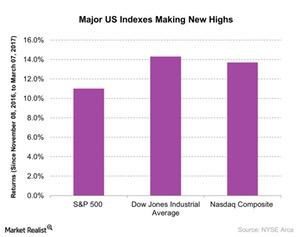 Why J.P. Morgan Believes the Market Rally Could Pause
By Sarah Sands

Nov. 20 2020, Updated 5:30 p.m. ET
The market rally
Various US indexes such as the S&P 500 Index (SPY), the Dow Jones Industrial Average (DIA), and the NASDAQ Composite have performed well since the US election. As of March 7, these indexes have returned nearly 11%, 14.3%, and 13.7%, respectively, since November 8, 2016.
Optimism about the US economy and expectations for higher fiscal stimulus and deregulation mainly drove the market movement. Cyclical sectors such as materials (XLB), industrials (XLI), and technology (XLK) also showed strong improvement since the US election.
Article continues below advertisement
J.P. Morgan's stance on the market rally
An equity strategist from leading US (QQQ) investment bank J.P. Morgan (JPM) wrote in a note to clients that the market rally may pause due to a more hawkish tone from the Fed. He wrote, "In the near term we see increasing risk of a sell-off due to more hawkish Fed rhetoric at a time when investor positioning is stretched and equity volatility is likely to rise from low levels."
Since the 2008 global debt crisis, the Fed has continued a prolonged lower interest rate environment primarily to help the economy recover. According to many market participants, this ZIRP (zero-interest rate policy) created problems for the market by artificially boosting asset prices. Jim Grant, the founder and editor of Grant's Interest Rate Observer, is a great critic of the Fed's ZIRP.
In the present situation, the Fed's hawkish tone indicates that the economy is showing strength. If the Fed hikes the interest rate during its two-day meeting on March 14–15, then the market may show a short-term retrenchment, according to the investment firm. The S&P 500 Index could continue to see high volatility due to upcoming events.
In the next part of this series, we'll analyze what the moving averages indicate for the S&P 500 Index.