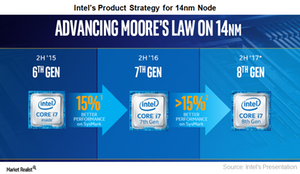 It's Official: Intel Will Bring a 4th Processor on Its 14nm Node
By Puja Tayal

Updated
Intel's extended technology road map
Intel (INTC) is spending a large percentage of its capital expenditure on capacity expansion. With every advanced node, the complexity is increasing, and so is the cost of research and development. These complex nodes require more equipment, thus increasing capital expenditure.
Intel has extended its technology road map from two processors for every node to three processors for every node. It did that to increase equipment life, reduce depreciation, and get better returns on capital. The new road map was effective with the launch of the third 14nm (nanometer) processor Skylake. However, it faces competition from Advanced Micro Devices' (AMD) new Ryzen CPU built on Samsung's (SSNLF) 14nm node. AMD claims that Ryzen delivers a performance similar to Skylake.
Article continues below advertisement
Intel's 4th 14nm processor
There have been rumors that Intel might launch a fourth processor on its 14nm node, code named Coffee Lake, since the ramp-up of the 10nm node is delayed. The rumor was reignited at Intel's 2017 Investor Day at which the company showed a slide detailing its 14nm product road map of sixth-, seventh-, and eighth-generation processors, each improving the performance by 15.0%.
Intel has already launched three processors on the 14nm node—Broadwell, Skylake, and Kaby Lake—the fifth-, sixth-, and seventh-generation processors, respectively. The eighth-generation Coffee Lake processor is due for launch in the second half of fiscal 2017. It will be the fourth processor on the 14nm node.
Even within 14nm, Intel has improved the process slightly by tweaking the design. Some unnamed sources claim that Intel refers to Skylake as 14nm, Kaby Lake as 14nm+, and Coffee Lake as 14nm++. The sources stated that the Coffee Lake processor is built on FinFET (Fin Field Effect Transistor) technology that has a 3D (three-dimensional) transistor and houses the latest GPUs (graphics processing units). Only by adding an improved GPU can the performance of a CPU be improved significantly.
Intel's 14nm eighth-generation core comes alongside 10nm processor 
Coffee Lake comes as a surprise since Intel will have its 10nm process ready for production by the end of fiscal 2017. If Intel launches its first 10nm processor Cannon Lake in late 2017 or early 2018, the 14nm and 10nm chips would coexist. That raises the question of how Intel will brand its 10nm chip.
Murthy Renduchintala, Intel's president of Client and Internet of Things Businesses and Systems Architecture Group, said, "If Cannonlake comes out at the end of the year, it'll be interesting what we actually market it as. We haven't decided it yet."
However, some analysts believe that Intel's 10nm process might be delayed. In the next part, we'll see if a delay in the process node could affect Intel's process lead in the market.