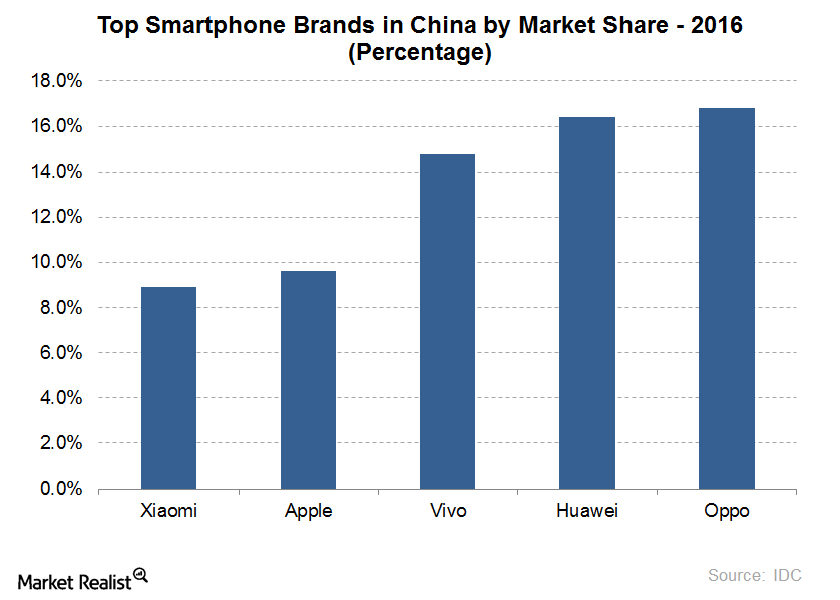 Is the iPhone Plus Apple's Best Bet?
Chinese sales fall 12%
The larger and usually more expensive iPhone Plus model could be Apple's (AAPL) saving grace as it tries to reverse its fortunes in the Smartphone market.
The company has recently struggled with tepid demand for iPhones, leading to a 12% fall in its Chinese sales as it faces growing competition from Samsung (SSNLF), Microsoft (MSFT), Nokia (NOK), and homegrown brands such as Huawei and Xiaomi.
Article continues below advertisement
Plus model makes up 35% of iPhone installed base
A recent survey by CIRP (Consumer Intelligence Research Partners) revealed that the iPhone Plus model made up 35% of Apple's iPhone installed base in the United States (SPY) in fiscal 1Q17, compared to 25% of its installed base in fiscal 1Q16. The rise suggests the growing popularity of the Plus model.
Apple's current portfolio of iPhone Plus models includes the iPhone 6 Plus, released in 2014, the iPhone 6S Plus, released in 2015, and the iPhone 7 Plus, released in 2016.
15% of Android switchers move to the iPhone 7 series
A different CIRP survey showed that the iPhone 7 and iPhone 7 Plus, Apple's newest iPhone models, accounted for 72% of all iPhones sold in the United States in fiscal 1Q17. Additionally, former Android users embracing Apple's handsets chose the iPhone 7 series. According to CIRP, 15% of iPhone 7 series sales in the quarter came from former Android users.
Why the iPhone Plus model?
One of the reasons the iPhone Plus model is popular with users is that its larger display is more accommodative. Additionally, the Plus model comes with a larger battery, providing longer battery life and increasing its appeal.
Given that the iPhone Plus models have struck the right chord with many Apple customers, the company could build on that success by making the model more appealing to encourage more uptake.