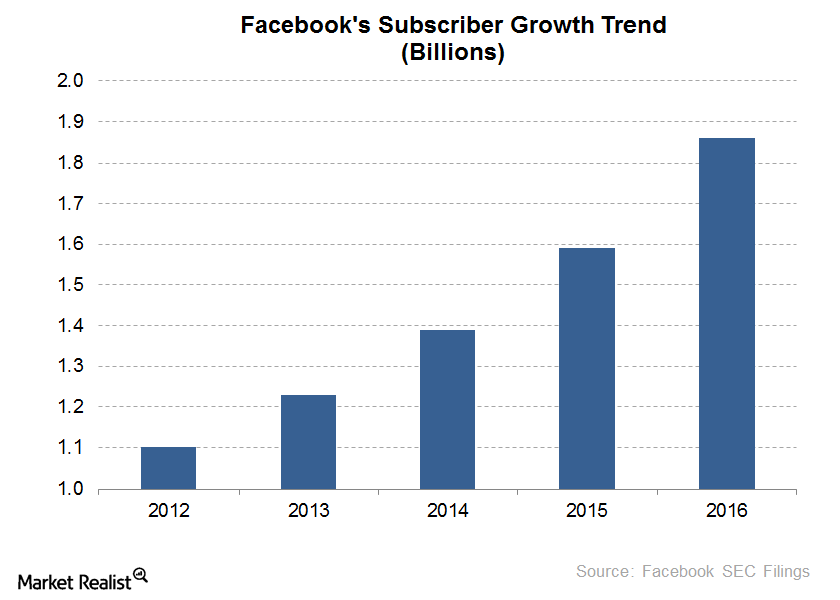 Is Facebook the Reason Snapchat Is Running to Hardware?
Snap is widening its focus
Facebook (FB) is expected to come under increased competition as Snap (SNAP), the parent company of the photo-sharing app (application) Snapchat, goes public. However, early indications suggest that Snap may not be brave enough to stake its future solely on stealing market share from Facebook. That could calm Facebook investors.
Facebook is the world's largest social network, boasting nearly 2.0 billion monthly active users. It continues to grow its revenues and user base at a robust rate. Its revenue rose 54.0% in 2016 to $27.6 billion. It gained 265.0 million subscribers in 2016, which is almost the size of Twitter's (TWTR) entire user base.
Snap's daily active user growth cooled down to 3.0% in 2016 from 14.0% in 2015. The app has 158.0 million daily active users, according to regulatory filings.
The graph below shows how Facebook's subscriber base has changed over the last few years.
Article continues below advertisement
Snap sees hope in cameras and AR
Worried that it won't be able to easily and quickly pull subscribers and advertisers from Facebook, Snap is diversifying into hardware products. They include cameras, wearable technology, and AR (augmented reality) gear, according to a Reuters report.
Facebook in the hardware business
If hardware products appeal to social media users, then Snap as well as Facebook will both most likely enter the business. It won't be an easy road for Snap if Facebook has similar ambitions. Through its subsidiary Oculus, Facebook has a hardware footprint in the VR (virtual reality) market. It could use that as a stepping stone to AR, which is what Snap is eyeing.
Snap's hardware ambitions could also create fierce competition with Apple (AAPL), GoPro (GPRO), and Alphabet's (GOOGL) Google.