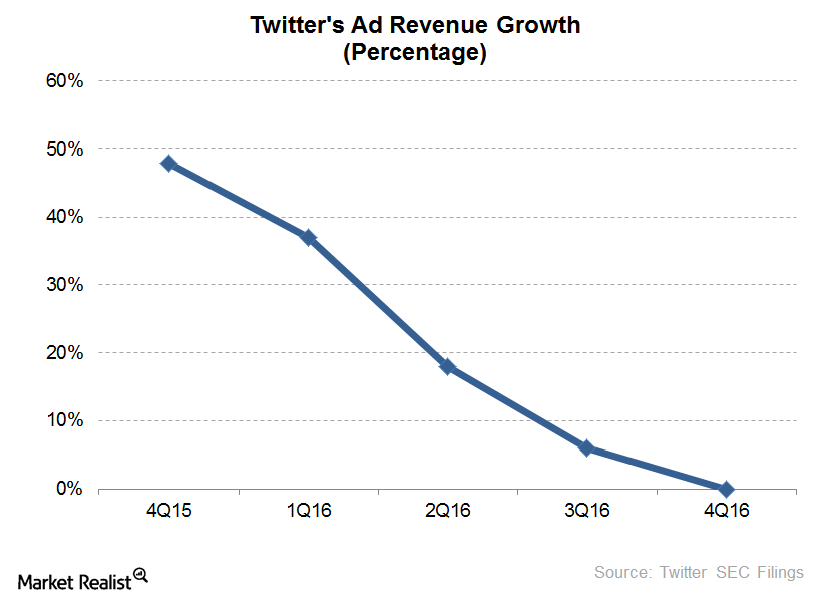 Is a Sale of Twitter in the Cards?
By Neha Gupta

Dec. 4 2020, Updated 10:53 a.m. ET
Twitter may have to sell itself
Faced with stiff competition for online marketing budgets, slowing revenue and user growth, and a falling stock price, Twitter (TWTR) seems to be battling a huge storm. But Twitter's woes could also make it attractive for a potential buyer that could end up grabbing it at a discount and helping end its problems.
The chart above shows Twitter's ad revenue growth trends.
Article continues below advertisement
Who could buy Twitter and help it get out of trouble?
No one has recently shown interest in acquiring Twitter since Salesforce (CRM), Alphabet's (GOOGL) Google, Verizon (VZ), and Microsoft (MSFT)—which had been mentioned in connection with a Twitter buyout—failed to close a deal.
However, a sale could be Twitter's surest way to deal with its problems and potentially unlock more value for shareholders, many of whom have seen their investment in the company shrink in recent years.
Steering the ship through troubled waters
Twitter's recent turnaround efforts have focused on increasing video content on the platform, simplifying content discovery, fighting online trolls, and attracting advertisers.
But Twitter is dealing with a complicated situation, having to cut costs to boost the bottom line, yet it also needs to continue spending on research and development to create new products that can enhance subscribers' and advertisers' experience. Perhaps selling itself could eliminate this puzzle because the buyer would provide the cash needed for innovation.
Downbeat 1Q17 outlook
Twitter, which is struggling with weak advertising demand on its platform, issued downbeat revenue guidance for the current quarter. The company is expecting 1Q17 revenue in the range of $428 million–$558 million while Wall Street is looking at revenue of at least $628 million.