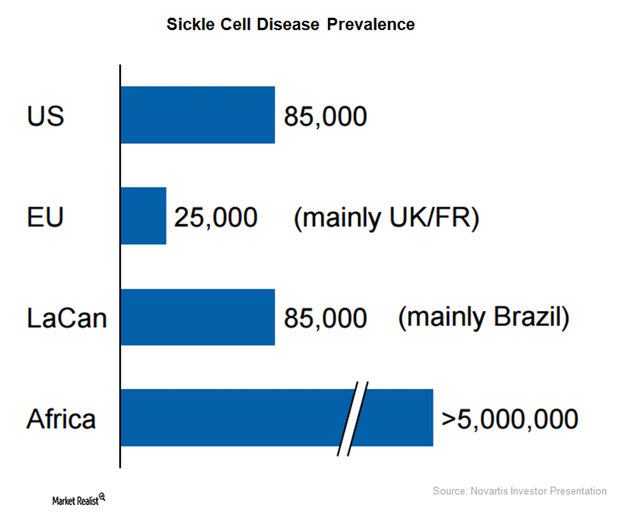 Could SEG101 Revolutionize the Treatment for Sickle Cell Disease?
By Margaret Patrick

Apr. 4 2017, Updated 9:06 a.m. ET
Sickle cell disease market opportunity
Novartis (NVS) is currently involved in developing its investigational therapy SEG101 for sickle cell disease.
The above diagram shows the prevalence of sickle cell disease in multiple geographies. Patients witness the onset of this disease in childhood. Besides diminishing quality of life, the condition also results in early mortality. Patients have a reduced median life expectancy of 38–42 years.
Article continues below advertisement
Limited competition
In 1999, the U.S. Food and Drug Administration (or FDA) approved Hydroxyurea as a treatment option for sickle cell disease. Despite being the only FDA-approved treatment option for this condition, only 25% of the affected patients have been using this therapy due to its severe toxicity profile.
These facts highlight the significant unmet demand in this area and the growth opportunity for Novartis. Novartis plans to file a new drug application (or NDA) with the U.S. Food and Drug Administration (or FDA) for SEG101 by 2019. If the company continues to release positive data from its clinical trials for the drug, it may have a positive impact on the company's share prices as well as those of the Vanguard International Dividend Appreciation ETF (VIGI). Novartis makes up about 3.4% of VIGI's total portfolio holdings.
SUSTAIN trial results
In the phase two trial SUSTAIN, SEG101 managed to demonstrate a 45% drop in annual pain crises in treated patients. Plus, the median time between first and second pain crises for patients treated with SEG101 was almost double those who were on a placebo. The investigational drug also managed to demonstrate almost a 100% rise in patients with no pain crises.
SEG101 has managed to demonstrate efficacy, regardless of whether patients used hydroxyurea or not. Plus, the drug has also been well tolerated among tested patients. Novartis plans to discuss this data both with the FDA and the European Medicines Agency (or EMA) in early 2017.
Owing to impressive efficacy data, SEG101 could enable Novartis to compete effectively with other oncology players such as Merck (MRK), Bristol-Myers Squibb (BMY), and Roche Holdings (RHHBY).