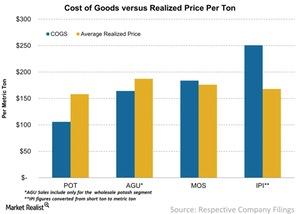 Why Intrepid Potash Is the Biggest Loser among Its Peers
By Adam Jones

Dec. 4 2020, Updated 10:52 a.m. ET
Profitability drivers
In the previous article, we discussed how Intrepid Potash's (IPI) gross margins have fallen over the years. 
In this article, we'll compare the company's potash cost of goods per ton to its average selling price per ton and those of other players in the market.
Article continues below advertisement
Commodity as a product
Potash fertilizers are commodities, and a product with identical potash composition should sell at nearly the same price from company to company. However, depending on a company's cost of production, its position on the cost curve may differ.
In the chart above, we've organized potash producers from the lowest cost of production to the highest cost of production along with the realized prices for the same product in 2016. PotashCorp (POT), the largest producer of potash fertilizer, was the lowest-cost producer, with a cost per ton of $106. Agrium's (AGU) cost per ton averaged $164, The Mosaic Company's (MOS) cost per ton stood at $184, and Intrepid Potash's cost per ton averaged $250, converted from $276 per short ton, in 2016.
Realized prices
When we look the averaged realized or selling price of potash products for these companies, they don't follow the same path. PotashCorp had the lowest realized price at $158 per ton. With its low cost of production, even at this price, it had a positive margin. Agrium also had a positive margin, with its selling price exceeding its cost at $187 per ton.
In contrast, both Mosaic and Intrepid Potash sold at prices lower than their costs of production. In other words, these two companies sold potash at a loss.
Next, we'll compare the gross margins of these companies (MOO).