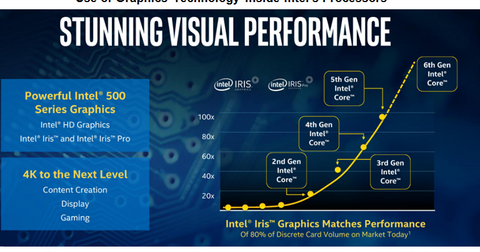 Rumor that Intel Could Sign GPU Licensing Deal with AMD
By Puja Tayal

Updated
Rumors over a possible GPU licensing deal between Intel and AMD
In 2016, a rumor was floating around about a possible licensing deal between Intel (INTC) and Advanced Micro Devices (AMD). It involved GPU (graphics processing unit) technology. Intel's licensing deal with Nvidia (NVDA) expires in March 2017.
Let's see if this deal could happen and how it could benefit Intel and AMD.
Article continues below advertisement
A deeper look into the Intel-Nvidia licensing deal
Intel is currently in a non-exclusive, non-transferable, worldwide cross-license agreement with Nvidia to use Nvidia's GPU technology filed on or before March 31, 2017. According to the SEC filing, "The term of the patent cross license agreement continues until the expiration of the last to expire of the licensed patents unless earlier terminated."
That means that even after the licensing deal expires on March 31, 2017, Intel can continue to use Nvidia's GPU technology that it's been using until each GPU's patent expires. That could be as many as 20 years down the road for recently granted patents. However, Intel can't access any of Nvidia's patents that are filed after March 31, 2017.
Intel probably hasn't used all of Nvidia's patents to which it has access. It takes years for a patented technology to materialize into commercial products. So Intel is under no pressure to sign a new agreement.
Why would Intel sign a licensing deal with AMD?
Intel is now competing with Nvidia in AI (artificial intelligence), which may encourage it to enter into a licensing deal with AMD. There have been rumors that Intel is working with AMD to package its CPU (central processing unit) and AMD's GPU on a single silicon using its Embedded Multi-die Interconnect Bridge packing technology.
A discrete GPU and a CPU on a single chip can reduce latency and simplify board designs, enabling PC (personal computer) makers to make thinner laptops. That could help Intel offer an innovative product for Apple's (AAPL) MacBook. If Apple adopts this technology, other PC makers could follow.
How AMD could benefit from a licensing deal with Intel
AMD is likely to launch a similar product code named Raven Ridge that would house its Ryzen CPU and Vega GPU. The product is rumored to have 704 cores with 1.8 TFLOPS (tera floating-point operations per second) performance. That could help AMD beat Intel's current integrated GPUs and offer a better experience in multiplayer online games.
Raven Ridge would also increase the performance of an integrated GPU to the lower-end discrete GPU. That would reduce Nvidia's addressable market and increase opportunities for AMD.
If AMD launches the above product with Intel, AMD's discrete GPU attach rate would increase significantly since Intel dominates the PC and server processor markets. That would help AMD take more share from Nvidia.
Next, we'll look at Intel's memory business, which could support its AI strategy.