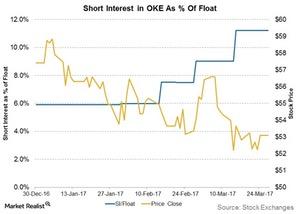 What Does Increased Short Interest in ONEOK Indicate?
Short interest
Short interest represents the total shares of a particular stock that have been shorted but haven't been closed out yet. The short interest, as a percentage of float, in ONEOK (OKE) stock is 11.2%. It has risen from 9% in mid-March. The short interest in ONEOK is on the higher side compared to an average of ~7.1% over the last year.
The above graph shows changes in short interest in ONEOK since the start of 2017. The current short interest is at the highest level during this period. A rise in the short interest likely indicates that more investors expect its price to fall in the near future.
Article continues below advertisement
High short interest as a percentage of float, as well as any sudden increase in the short interest of any stock, indicates that more investors expect the stock's price to fall. However, the price might not fall, either because investors could be wrong or because the price could increase as investors buy the stock to cover their short positions.
Short interest ratio
The short interest ratio indicates the days it will take for short sellers to cover all of their positions. It's calculated by dividing short interest with the average trading volumes for a particular stock. For ONEOK, the short interest is ~23.4 million shares, while the average daily trading volume over the last 30 days is ~2.9 million shares. So, ONEOK's short interest ratio is 8.0x. It will take eight days to cover all of the open short positions in ONEOK stock.