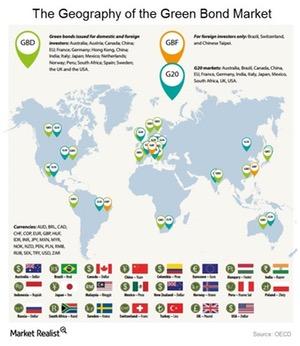 How Important Is the Green Label for Investors?
By Sushree Mohanty

Mar. 31 2017, Updated 3:39 p.m. ET
VanEck
Although the green label has begun to attract investor attention as a way to identify bonds which have a clearly disclosed use of proceeds that aims to benefit the environment, there is also a much larger (approximately $576 billion: Source: Climate Bonds Initiative, Bonds and Climate Change: The State of the Market In 2016) universe of unlabeled green bonds. Many infrastructure projects that might be considered green, for example, municipal water projects, were financed through bond issuance long before the relatively recent development of the green bond market. Many issuers of unlabeled green bonds may not feel the additional disclosure or cost of verification is worth the expense. Or they may simply be unaware of the tremendous interest in labeled green bonds.
Article continues below advertisement
Another example of unlabeled green bonds relates to bonds issued for general corporate purposes by "pure-play" (Source: Pure-play is defined as a company that is focused on only one industry or product) companies, such as manufacturers of solar panels or electric cars. Although the businesses of these firms are inherently environmentally friendly, market participants do not consider these bonds to comply with best practices since the use of proceeds is not specified at the time of issuance, and therefore the bonds do not carry a green label. To be sure, proceeds may go towards activities or projects considered environmentally friendly. However, they could also finance nongreen activities such as a dividend payment or share repurchase.
Given that the market is still in its early years, we believe that the green label is essential in providing confidence to investors that their investment is promoting environmentally sustainable projects, and is needed to promote future market growth.
Market Realist
How important is the green label?
The green bond market is expanding and diversifying, as you can see in the above graph by the OECD (Organisation for Economic Co-operation and Development). The green bond universe includes more than 600 bonds from 24 countries in 23 currencies. Of those, 20 are for domestic and foreign investors, and three are only for foreign investors.
Green bonds have been issued in 14 markets of the G20 (Group of Twenty). The outstanding issuance of the labeled green bonds market was $118.0 billion in 2016. The outstanding issuance of the unlabeled bond universe, with less strict criteria and not labeled "green," was $576.0 billion in 2016. Unlabeled projects mostly include rail (SLX) and renewable energy projects (QCLN).
Labeling bonds "green" is evident from the use of its proceeds in climate mitigation projects. In certain cases, when this is not specified, those bonds are called unlabeled bonds. The common reasons for not labeling bonds "green" are related to concerns over stricter criteria and the absence of a standardized process in the market.
Many bonds of pure-play companies are often unlabeled. Pure-play companies (CRAK) are companies that invest in one particular type of business. Even though these companies have environmentally friendly projects, their bonds aren't considered green bonds since the issuer's use of the proceeds is undefined.
So in order for the green bonds (GRNB) market to grow and in order to build investor confidence, there will need to be stricter regulations for green labeled projects.
In the next part, we'll see how the world is dealing with climate change and look at the role of green bonds.