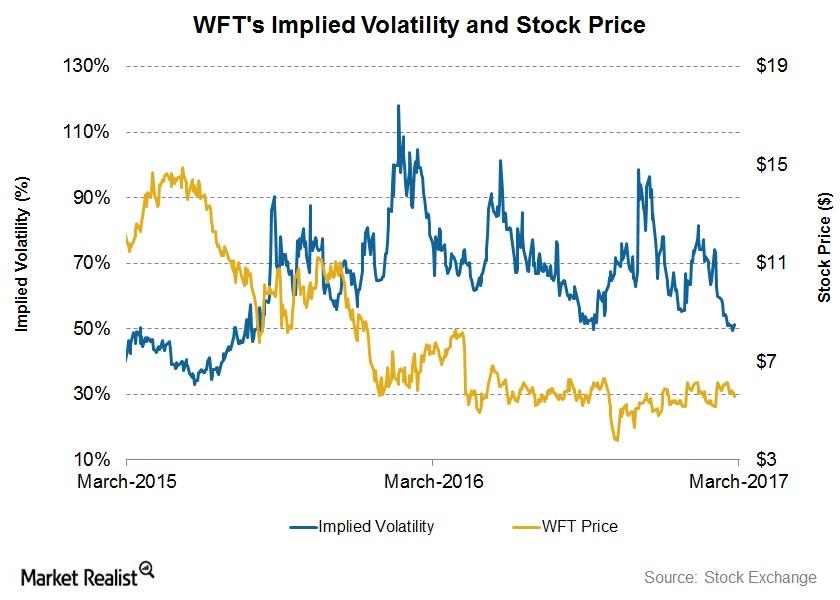 What Does Implied Volatility Suggest for Weatherford Stock?
Implied volatility
On March 1, 2017, Weatherford International's (WFT) implied volatility was ~52%. Since Weatherford International's 4Q16 financial results were released on February 1, its implied volatility fell from 73% to the current level.
On November 1, 2016, Weatherford International's implied volatility rose to 98%. The implied volatility rose due to Wall Street analysts' concerns about Weatherford International's ability to meet debt covenants. Weatherford International accounts for 0.03% of the iShares MSCI ACWI Low Carbon Target ETF (CRBN).
Article continues below advertisement
What does implied volatility mean?
Implied volatility reflects investors' views on a stock's potential movement. However, it doesn't forecast direction. Implied volatility is derived from an option pricing model. Investors should note that the correctness of prices suggested by implied volatility can be uncertain. Weatherford International's peer Helmerich & Payne's (HP) implied volatility was 29% on March 1, while McDermott International's (MDR) volatility was ~40%. CARBO Ceramics' (CRR) implied volatility is ~56%.
What implied volatility suggests for Weatherford stock
Based on Weatherford International's implied volatility and assuming a normal distribution of stock prices and one standard deviation probability of 68.2%, Weatherford International stock will likely close between $5.42 and $6.26 in the next seven days. Weatherford International's stock price was $5.84 on March 1, 2017.
Energy stocks are typically correlated with crude oil prices. Has Weatherford International's correlation with the crude oil prices increased? We'll discuss this in the next part.