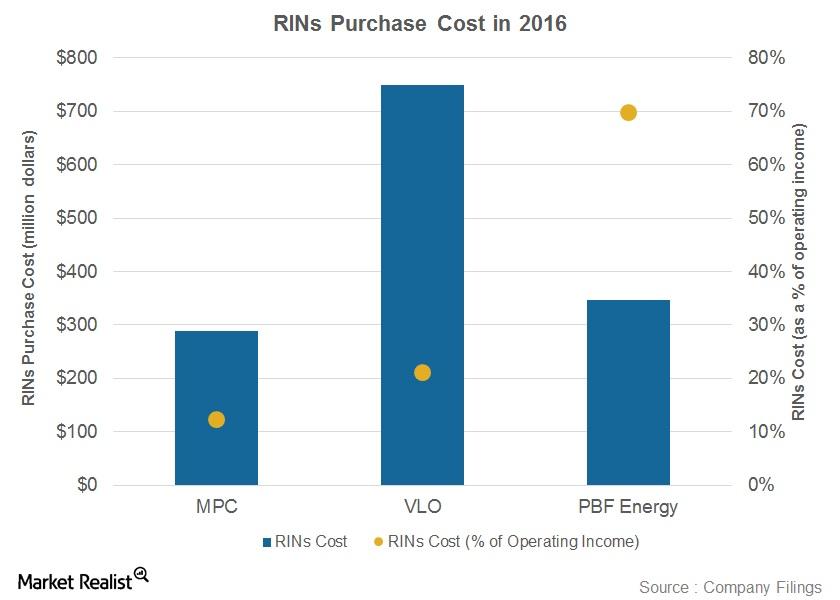 If Only the RFS Program Rumors Were True
By Maitali Ramkumar

Mar. 3 2017, Published 2:08 p.m. ET
What's this all about?
According to media reports, Bob Dinneen, CEO (chief executive officer) of the RFA (Renewable Fuels Association) was informed by the Trump administration that there would be an executive order underway regarding a modification to the RFS (Renewable Fuel Standard) program. The order would require fuel blenders, distributors, and retailers to blend the biofuels and not the refiners themselves, who are currently responsible for the blending.
The White House has denied any such order, however. This bought speculation about the RFS program change to rest, but Dinneen responded in the media, stating: "There is certainly something in the works, but they're not going to confirm it until they are ready to roll with it."
Article continues below advertisement
What is the RFS Program?
Refiners have to blend renewable fuels at a rate that satisfies the EPA's (US Environmental Protection Agency) annual quota. This is primarily for the protection of the environment from the greenhouse gas emissions.
If refiners are unable to blend according to the quota, they have to purchase RINs (renewable identification numbers), which are assigned for renewable fuels produced or imported into the US, from a market for RINs. Notably, the prices of RINs have been quite volatile recently.
If the rumor were true
Refiners are required to blend 19.3 billion gallons in 2017, representing an increase of 6% over 2016 levels. The higher levels are likely to hurt refiners because even at the 2016 blended quota levels, refiners have been struggling to comply with the regulations. With 2017 quotas in place, companies will be incurring substantial compliance costs, and this will likely hurt their margins and earnings.
Valero Energy (VLO) has incurred around $749 million in 2016 toward the purchase of RINs to comply with the RFS regulation. The cost, if calculated as a percent of VLO's operating income, would stand at 21%. The company expects its RIN costs to be similar in 2017.
Article continues below advertisement
The ratio is quite high for PBF Energy (PBF) at around 70%. PBF spent around $375 million toward the purchase of RINs in 2016. For this reason, such an executive order it would be quite beneficial for refiners under the burden of RIN purchase costs. Marathon Petroleum (MPC), who has a higher number of blending terminals has a ratio standing at 12%. MPC incurred $288 million toward compliance costs in 2016.
Tesoro (TSO) acquired Virent, a biofuel company, to reduce its compliance cost. In its 10K filing, TSO stated: "We are currently meeting the RFS2 requirements through a combination of RINs that were carried over from prior periods."
Notably, the SPDR S&P 500 ETF (SPY) has ~7% exposure to energy sector stocks, including MPC, VLO, and TSO.
What to expect in this series
Refining stocks had initially reacted well to the rumor of the executive order but eventually shed any gains following clarifications from the White House.
We'll evaluate the stock performance of refiners further in this series. We'll also do a cross-sectional analysis of refining stocks in terms of their dividend yield trend, forward valuations, institutional holdings, short interest, implied volatility, analyst recommendations, and correlation coefficients.