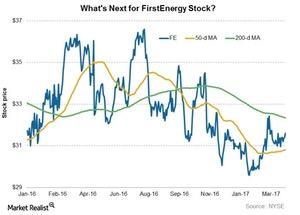 Huge Rise in FirstEnergy's Short Interest: What It Means
Chart indicators
Let's look at FirstEnergy's (FE) chart indicators. On March 28, 2017, FirstEnergy stock was trading 3% above and 2% below its 50-day moving average and 200-day moving average, respectively. Recently, the stock failed to maintain gains, which could be concerning for investors. Its 50-day moving average, with levels near $30.80, might act as support in the short term.
Moving averages show that when a stock price rises above or falls below a particular moving average, it's a bullish or bearish sign, respectively.
Article continues below advertisement
Relative strength index
Currently, FirstEnergy's RSI (relative strength index) is at 60. The RSI is a momentum indicator made up of values between zero and 100. Movements below 30 are considered to be in the "oversold" zone. Movements above 70 are considered to be in the "overbought" zone, which can hint at an imminent reversal in the stock's price.
Short interest
Short interest in FirstEnergy rose more than 17% on March 15, 2017. Total shorted shares in the company were 8.7 million on February 28, 2017, and rose to 10.2 million by mid-March 2017. A rise in short interest can mean that more investors are expecting the stock to fall in the near term.
Remember, short interest indicates the number of a company's shares that have been sold short and haven't been covered. The number also helps track investor sentiment.
Read Is It a Good Time to Place Your Bets on Duke Energy? to learn what's happening with Duke Energy (DUK)—a utility giant (XLU).