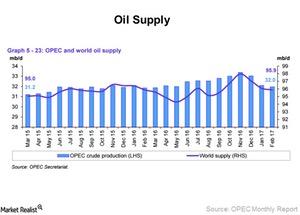 How the OPEC Production Cut Turned Out for Crude Tankers
By Sue Goodridge

Dec. 4 2020, Updated 10:52 a.m. ET
Oil production
Crude oil production has gradually fallen since the beginning of 2016, especially on the non-OPEC (Organization of the Petroleum Exporting Countries) side. However, since the start of 2017, OPEC's oil production has been on the decline.
Article continues below advertisement
OPEC
OPEC crude oil production in February 2017 fell 0.14 MMbpd (million barrels per day) compared to the previous month. Oil production in February averaged 32.0 MMbpd, compared to 32.1 MMbpd in January. Among the OPEC countries, oil output in Nigeria rose, while production in Saudi Arabia, the United Arab Emirates, and Angola fell the most.
On November 30, 2016, OPEC agreed to a deal to cut oil production by 1.2 million barrels per day effective on January 1, 2017. However, Nigeria and two other countries got concessions. Other than OPEC, 11 other leading oil producers including Russia agreed in December to cut their combined output by almost 1.8 million barrels per day in the first half of the year.
The world oil supply fell 0.21 MMbpd in February to average 95.9 MMbpd.
OPEC deal extension
There's a high possibility that OPEC's production deal will be extended. If the deal is extended, we can't hope to see a revival in oil production in the near future. When the oil supply falls, it has a negative impact on crude tanker rates, because the demand for spot cargoes diminishes.
So, higher oil supply is usually positive for the tanker industry, while a lower oil supply is negative for the tanker industry and for companies such as Frontline (FRO), Teekay Tankers (TNK), Tsakos Energy Navigation (TNP), Nordic American Tankers (NAT), DHT Holdings (DHT), Gener8 Maritime (GNRT), Navios Maritime Midstream Partners (NAP), and Euronav (EURN).