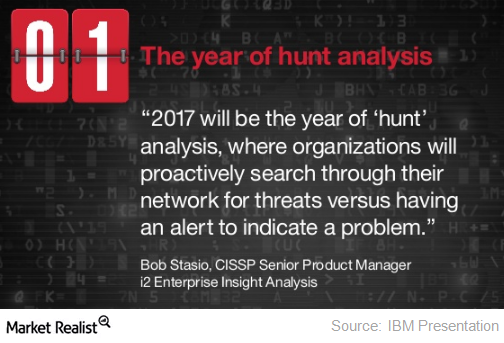 How the Agile 3 Buyout Could Boost IBM's Strategic Imperatives
By Anne Shields

Dec. 4 2020, Updated 10:52 a.m. ET
In sync with IBM's Strategic Imperatives
In the previous part of this series, we discussed IBM's (IBM) acquisition of Agile 3 Solutions. According to IBM, Agile 3 Solutions marks the company's 20th security-related acquisition aimed at enhancing its expertise in the cybersecurity space. Since 2015, IBM has employed or hired 1,900 security experts. It has also invested in new programs such as IBM Security App Exchange and IBM X-Force Exchange to enable the industry to collaborate against cybercrime.
Article continues below advertisement
Security is an integral component of IBM's Strategic Imperatives segment, which comprises investments and initiatives in the cloud, analytics, mobile, social, and security technologies spaces. Strategic Imperatives' revenue grew 13% in fiscal 2016, while its contribution to overall revenue rose to 41%. In 2015, this segment's contribution stood at 35%.

IBM's patents and acquisition strategy
Not only did 2016 mark the 24th consecutive year in which IBM had the most patents among peers, but it also marked the first time its number of patents surpassed 8,000. More than 2,700 of IBM's 2016 patents involved AI (artificial intelligence), cognitive computing, cloud computing, cybersecurity, or analytics. In other words, the majority of its patents were directed toward boosting its Strategic Imperatives segment.
Before IBM acquired Agile 3 Solutions, they worked together as business partners. Agile 3 Solutions isn't the first company IBM has invested in before buying it out.
In late 2016, IBM acquired Fluid's Expert Personal Shopper (or XPS) division. Prior to the acquisition, IBM invested in Fluid's XPS app in 2014. In early 2016, to enhance Watson's dataset, IBM bought data and digital assets from The Weather Company for ~$2 billion. Prior to this acquisition, in March 2015, IBM entered into a partnership with The Weather Company as part of its billion-dollar investment in the Internet of Things (or IoT) space.