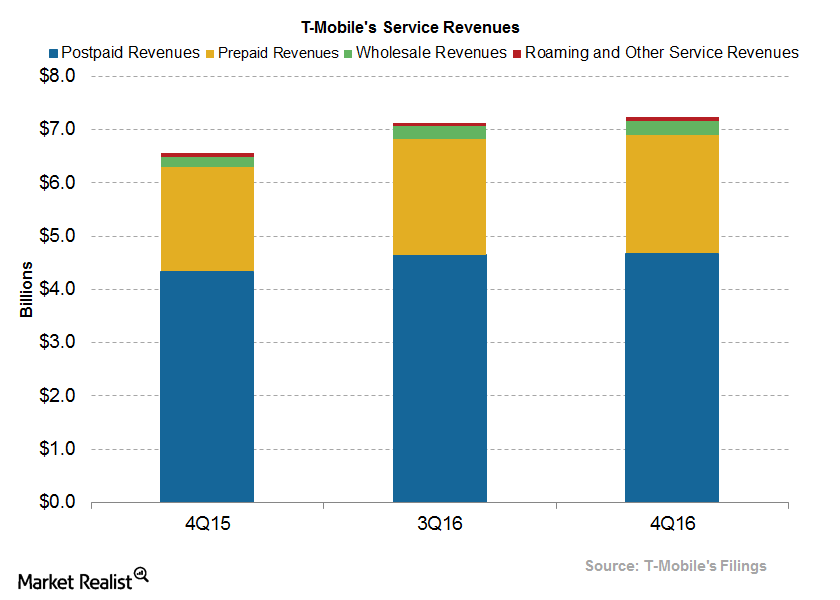 How T-Mobile Is Managing Its Service Revenue Growth
By Ambrish Shah

Dec. 4 2020, Updated 10:53 a.m. ET
T-Mobile's service revenues in 4Q16
T-Mobile (TMUS) once again led the industry in YoY (or year-over-year) service revenue percentage growth in 4Q16. This marks the 11th consecutive quarter that T-Mobile has led the industry in this metric. Service revenues are stable revenue streams common to wireless carriers such as T-Mobile, Verizon (VZ), AT&T (T), and Sprint (S). T-Mobile's service revenues increased ~10.5% YoY to reach ~$7.2 billion in 4Q16.
The main reason for the increase in service revenue was primarily due to growth in the company's subscriber base in existing and expansion markets, as well as the impact from Data Stash.
The Postpaid and Prepaid segments continued to fuel service revenue growth during the quarter. Growth was more significant in the Prepaid segment.
Service revenues in the Postpaid segment grew ~7.9% YoY to reach ~$4.7 billion in 4Q16. The Prepaid segment also contributed ~$2.2 billion of service revenues. This revenue stream grew ~13.9% YoY during the quarter.
Article continues below advertisement
T-Mobile's smartphone sales saw robust growth in 4Q16
T-Mobile's equipment revenues rose ~78.4% YoY to reach ~$2.7 billion in 4Q16, as the company promoted its equipment installment plans. In installment plans, users pay for the devices in monthly installments. The telecom company sold ~9.9 million smartphones during the quarter. T-Mobile sold ~8.7 million smartphones during 3Q16.
On the positive side, T-Mobile's handset upgrade rate in the Postpaid segment increased from ~7% in 3Q16 to ~10% in 4Q16, and it remained consistent with 4Q15.