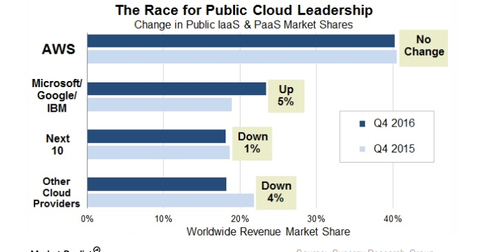 How Oracle Aims to Compete with Amazon Web Services in the Cloud
By Anne Shields

Updated
Amazon rules, but others have improved market shares in the cloud space
So far, we've learned that a temporary glitch in Amazon's (AMZN) Amazon Web Services (or AWS) platform has shaken enterprises' reliances on the public cloud space. It's also contributed to the growing adoption of hybrid cloud technology, which is seen by many as a more measured approach.
The outage, though temporary, affected Amazon the most. The company rules the cloud space, with AWS's market share at a whopping ~40%. Though IBM (IBM), Microsoft (MSFT), and Google (GOOG) combined can't match Amazon's share and scale in the cloud space, these three players managed to increase their market shares by a combined 5% in 2016 compared to 2015.

Article continues below advertisement
Oracle's strategy to compete with its rivals in the cloud
Microsoft, IBM, and Google have all been positioning themselves as competition to AWS, raising concerns about the prospects of Amazon's cloud business. Though Oracle (ORCL) isn't included in the top five players in the space, it considers AWS to be its chief rival.
In February 2017, Oracle quietly altered the terms of its licensing policy to double the cost of running its software in Amazon's cloud environment. The change was seen as a move to blunt the appeal of AWS as Oracle worked to promote its own cloud platform as the cheaper option.
If AWS's appeal is that it offers a cheaper route to the cloud, Oracle's move to increase the cost of running its software on the Amazon cloud is aimed squarely at eroding that advantage.