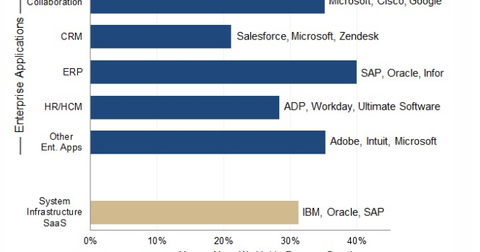 How Oracle Achieved Robust Growth in the SaaS Space
By Anne Shields

Updated
ERP and collaboration drove double-digit growth in SaaS
Earlier in this series, we discussed Oracle's (ORCL) dominance in the database space and its initiatives to keep a tight rein on its lead. Let's see if Oracle's acquisition strategy can help it succeed in the cloud space.
Synergy Research Group's recent estimates show that the enterprise SaaS market grew 32% on a YoY (year-over-year) basis to reach almost $13 billion in quarterly revenues. Within the SaaS space, ERP (enterprise resource planning) and the collaboration grew the most. ERP reported 40% YoY growth, and collaboration saw 30% growth.
The SaaS space is still fragmented. Looking into the trends in the SaaS space, it appears that a company's dominance in a niche makes it a leader in that subsegment.
Article continues below advertisement
Dominance in ERP helped Oracle record high growth in SaaS
Among the leading SaaS players—including Microsoft (MSFT), Salesforce (CRM), and SAP (SAP)—Oracle and Google (GOOG) reported the highest growth. In Google's case, G Suite collaborative apps propelled its growth story. It's likely that in Oracle's case, its dominance in ERP led it to register the highest growth in the SaaS space in 4Q16. The ERP segment grew the most in the SaaS space.
Oracle's focus on the ERP space is opportune because this sector is expected to witness significant growth by the arrival of the SMAC (social, mobile, analytics, and cloud) revolution, which led companies to shift from on-premise ERP to cloud-enabled ERP.
According to Allied Market Research, the global ERP software space is expected to grow at a CAGR[1. compound annual growth rate] of 7.2% to reach ~$41.7 billion per year from 2014–2020.
Later in this series, we'll look into Oracle's noteworthy acquisitions that would enable it to continue its trend in SaaS and the overall cloud space.