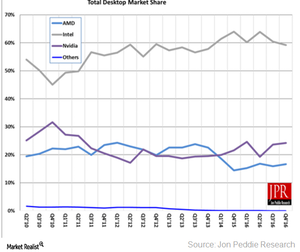 How Nvidia Plans to Expand Its Total Addressable Market for GPUs
By Puja Tayal

Updated
Nvidia expands its addressable market
Nvidia (NVDA) is expanding its overall addressable market by leveraging its two products, GPUs (graphics processing units) and Tegra processors. Its rivals Advanced Micro Devices (AMD) and Intel (INTC) are expanding their product offerings to capture new markets.
Nvidia reported exceptional growth in fiscal 2017 due to the success of its GPU platform model.
Article continues below advertisement
Nvidia leverages GPU architecture
Nvidia (NVDA) spends a significant amount in developing a standardized GPU and Tegra processor on the same architecture. The company made marginal changes to the design to control the GPU's performance. As a result, it generated several GPU models with varying performance levels for different market platforms. The company has several price points for its products.
Nvidia built its Pascal architecture in 2016 and leveraged it in the gaming market through its GeForce platform and in the data center market through its Tesla platform.
The company also leveraged its Pascal architecture in the professional visualization market through its Quadro platform and in the automotive market through its DRIVE PX platform.
Nvidia versus AMD
AMD is Nvidia's only competitor in the discrete GPU market. Nvidia became a leader in the discrete GPU market in late 2014 when it released its GeForce 900 series. At that time, Nvidia's GeForce 960 and 970 GPUs for low-end and mid-end customers delivered performance similar to AMD's mid-end and high-end offerings, but at a lower price.
Nvidia's high-end GeForce 980 outperformed AMD's best offering. It took AMD more than a year to offer a competitive GPU. In mid-2016, AMD launched the Polaris-based Radeon 480 that competes with GeForce 980. Nvidia launched the more powerful GeForce 1080 during the same period.
Article continues below advertisement
Until now, AMD and Nvidia's competition for market share was either based on price or performance. In late 2016, the competition moved to both price and performance. Nvidia delivered similar performance to that of AMD's GPUs but at a lower price. AMD's water drop pricing strategy helped it regain some market share from Nvidia in the last three months of 2016.
Because Nvidia earns 84% of its revenues from GPUs, market share is important for revenue growth. The gaming market is sensitive to even a small performance change, allowing AMD to regain market share with its Vega GPUs.
AMD's upcoming APU (application processing unit) integrated with the Ryzen CPU (central processing unit) and Vega GPU may diminish Nvidia's opportunity to sell notebook GPUs. Although its AI and Automotive segments present strong growth opportunities, they account for only 12% and 7%, respectively, of the company's revenues.
To harness the full potential of AI, we believe that Nvidia should continue developing new hardware and add more customers. The company is doing just that with its GeForce GTX 1080 Ti, which we'll discuss in the next article.