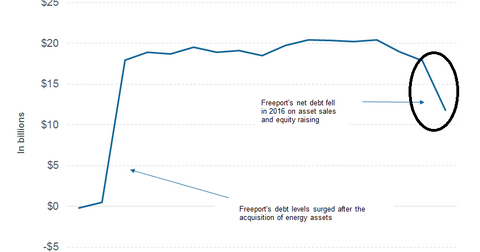 How Freeport's and Glencore's Debt-Reduction Strategies Differed
By Mohit Oberoi, CFA

Updated
Debt reduction
As we learned earlier, both Freeport-McMoRan (FCX) and Glencore (GLNCY) managed to bring down their debt levels in 2016. In this article, we'll look at the different routes they took to do so.
Article continues below advertisement
Freeport-McMoRan
Freeport's net debt was negative in 4Q12, which basically meant that the cash on its balance sheet was more than its borrowings. However, Freeport had to borrow heavily to acquire energy assets in 2013, increasing its debt levels. During its 4Q15 earnings conference call, Freeport mentioned a debt reduction program aimed at raising $5 billion–$10 billion to shore up its balance sheet.
Freeport raised $6.6 billion through asset sale transactions in 2016. The company also raised another $1.5 billion through an at-the-market equity offering. As a result of these measures and Freeport's free cash flow generation, its net debt fell to $11.8 billion at the end of 2016, compared to $20.1 billion at the end of 2015.
After these transactions, Freeport's copper volumes are expected to fall in 2017. Furthermore, the company is now mainly a copper producer (SCCO) (BHP) (RIO), as it's sold most of its energy assets.
Glencore
Glencore also raised cash by selling assets last year. However, unlike Freeport, the company didn't sell a stake in any of its core assets. Instead, it managed to raise cash by selling a 50% stake in its agriculture business. 
Glencore also sold stakes in some of its other noncore assets such as its coal rail haulage business. The company also entered some streaming transactions to raise upfront cash and raised cash by selling shares in 2015.
Teck Resources had a different approach, which we'll discuss in the next article.