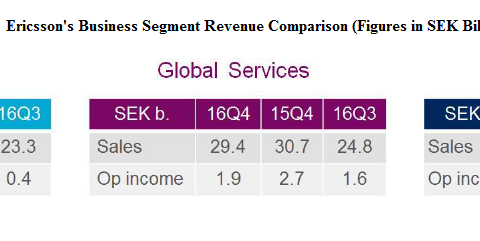 How Ericsson Aims to Drive Long-Term Growth
By Adam Rogers

Updated
Increased network capacity
Technology (QQQ) hardware company Ericsson (ERIC) is one of the world's major mobile infrastructure companies. Market leadership in the telecom space has allowed Ericsson to build on a large user base.
Ericsson (ERIC) has three major business segments: Networks, Global Services, and Support Solutions. The company's Networks business develops network infrastructure for communication needs over mobile and fixed connections.
According to Ericsson's 2016 annual report, the company "monetizes its strong global footprint in managed services, with more than 300 ongoing contracts. In mobile infrastructure, the ambition is to increase capacity and software sales into the installed base."
Article continues below advertisement
Market opportunity as emerging markets shift to 4G
As we discussed in earlier in this series, Ericsson (ERIC) has been struggling due to a weak macro environment in 2016 as well as slowing demand from emerging markets. However, there are several emerging markets in Latin America, Asia, and Africa that are still transitioning from 3G to 4G.
Ericsson intends to penetrate the 5G market, and it's in the process of building and testing 5G infrastructure in collaboration with telecom heavyweights. Ericsson aims to lead the 5G segment and improve profitability in the Networks business. Ericsson's revenues from its Networks business fell 13% YoY (year-over-year) to 32.4 billion krona in 4Q16.
Revenues from its Global Services business fell 4.2% YoY to 29.4 billion krona. Revenues from Support Solutions fell almost 40% YoY to 3.4 billion krona in 4Q16.