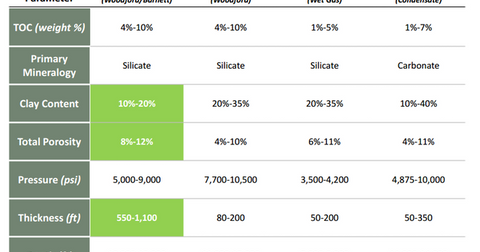 How Does Alpine High Fit into Apache's Growth Plans?
By Keisha Bandz

Updated
Alpine High
On September 7, 2016, Apache (APA) announced a major oil discovery in the Delaware Basin in Texas. The new resource play, Alpine High, is located in the southern portion of the Delaware Basin. APA estimates that its acreage has around 3.0 billion barrels of oil in the Barnett and Woodford regions and about 75.0 TCF (trillion cubic feet) of rich gas.
Article continues below advertisement
World-class resource play
APA believes the Alpine High play is a world-class resource play. In a presentation released with its press release, APA drew comparisons among the Alpine High resource play and other prolific plays such as the Woodford SCOOP (South Central Oklahoma Oil Province), the Marcellus, and the Eagle Ford plays.
John Christmann, APA's chief executive officer, made the following key comments on Alpine High during the company's Credit Suisse 22nd Annual Energy Summit presentation in February 2017: "Like most major discoveries, it's getting bigger with more data, which is a big thing and a great thing. We have a highly economic wet gas play."
Christmann added, "Our location counts are going to go up, and more of them are going to be in the high-pressure case. The location count is increasing, and we will be quantifying that with further delineation."
What's planned for 2017?
In 2017, Apache plans to operate four to six rigs in the Alpine High play, with 60–80 wells per year in the Woodford and Barnett plays. Apache plans to ramp up production in the Alpine High discovery in the second half of 2017. By mid-2017, it plans to have its infield gathering and processing infrastructure in place.