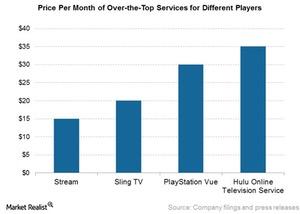 How Comcast Plans to Mitigate Threats from Over-the-Top Services
By Shirley Pelts

Updated
Comcast's strategy to compete with OTT services 
Millennials increasingly prefer to watch content online. This trend has allowed new players to enter the market and has made it difficult for pay-TV companies like Comcast (CMCSA) to retain their subscribers. Comcast discussed how it intends to compete in the face of this changing landscape at the Deutsche Bank Media, Internet and Telecom Conference earlier this month.
According to Comcast, its X1 set-top box has been the key to differentiating it from the competition with its superior service quality. In comparison, other over-the-top services like Dish Network's (DISH) Sling TV and AT&T's (T) DirecTV Now have suffered from technical glitches ruining the viewing experience.
As the above chart indicates, while Comcast's IP-based (Internet Protocol) streaming service is priced at $15 per month, Dish's Sling TV is priced at $20 per month.
Article continues below advertisement
Comcast said that the VOD (video-on-demand) content on its X1 set-top box has found favor with its viewers with around 85% of its customers viewing VOD content for around 20 hours each month. As a result, the company doesn't believe that it's lagging behind its competition when it comes to content quantity and quality.
The company also pointed out that its bundling of products like high-speed Internet along with video and targeted selling has resulted in Comcast getting ahead of the competition.
Comcast's market segmentation strategy
Comcast has long followed a strategy of offering products based on market segmentation. For example, Comcast's Internet Plus plan is for Millennials who are not very interested in streaming videos but would like high-speed Internet.
By offering different product bundles, Comcast can upgrade an existing customer instead of losing the customer to its competitors. Market segmentation could result in the reduction of involuntary churn for Comcast, which could drive up the company's average revenue per user for its cable communications business.