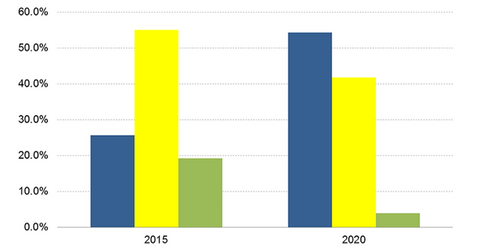 How Comcast Expects Its High-Speed Internet Products to Evolve
By Shirley Pelts

Updated
Comcast's high-speed Internet product evolution
In the previous part of this series, we discussed why Comcast (CMCSA) believes that its high-speed Internet business will continue to experience rapid growth. In this part of the series, we'll discuss how Comcast intends to achieve this growth.
Comcast stated at the Deutsche Bank Media, Internet and Telecom Conference that it will continue with the rollout of its DOCSIS (Data Over Cable Service Interface Specification) 3.1 technology and expects it to be available across the majority of its footprint by the end of this year. The company expects the rollout of DOCSIS 3.1 to give it a competitive advantage.
Article continues below advertisement
Comcast is also continuing to invest in its XB6 modem, and it expects it to be five times faster than any other modem. Comcast currently has 15.0 million hotspots across the United States (SPY). The company is also rolling out its Xi5 set-top box, which is HDR (high-dynamic range) 4K (4,000-pixel) capable.
Rise in demand for high-speed Internet
According to PricewaterhouseCoopers's estimates, 54.3% of mobile Internet subscribers could be on high-speed Internet by 2020, up from 25.7% in 2015. This estimate suggests robust demand for faster Internet access. Late last month, AT&T (T) was also in the process of beginning trials on its Project AirGig, a complex wireless Internet technology that relies on power lines for transmission.
The carrier announced Project AirGig last September and said it was capable of supporting multi-gigabit Internet speeds. This capability could help integrate the project into its push for 5G speeds. AT&T isn't the first company to attempt a move to next-generation Internet access technology. Facebook (FB) and Alphabet's (GOOGL) Google have been aiming to increase global access to high-speed wireless Internet for a long time.
Facebook is pushing forward with its Aquila drone Internet program, which involves solar-powered, high-flying drones to beam Internet access to rural areas. However, Google decided to shut down its similar program, Project Titan. Google's move highlighted the frustration that tech companies have had with new Internet technologies.