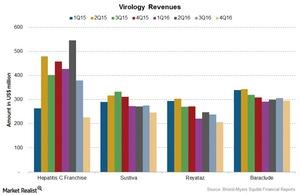 How BMY's Virology Segment Performed in 2016
The Virology segment
The Virology segment was Bristol-Myers Squibb's (BMY) second-largest revenue contributor in 2016. The segment contributed ~24.4% of BMY's total revenue in the year. It's made up of drugs for chronic virus diseases and infections such as hepatitis B, hepatitis C, and HIV.
Overall, the segment's revenue fell ~10.5% to $4.7 billion in 2016, compared to $5.3 billion in 2015.
Article continues below advertisement
Hepatitis C franchise
Daklinza and Sunvepra, two drugs launched post-August 2014, contributed over 33% of the Virology segment's total revenue in 2016. The revenues of these drugs fell ~2% to a total of $1.58 billion in 2016, compared to $1.60 billion in 2015. The fall followed lower sales in international markets.
Some other drugs used for the treatment of hepatitis C are Harvoni and Sovaldi by Gilead Sciences (GILD), Olysio by Johnson & Johnson (JNJ), and Viekira Pak by AbbVie (ABBV).
HIV franchise
The segment's HIV franchise includes two drugs, Reyataz and Sustiva. In 2016, Sustiva's revenue fell ~15% to $1.1 billion due to a loss of exclusivity, while Reyataz's revenue fell 20% to $912 million compared to 2015.
Hepatitis B franchise
Baraclude, an oral antiviral, reported a fall of ~9% to $1.2 billion in 2016, compared to $1.3 billion in 2015, due to the generic competition of entecavir tablets from Teva Pharmaceuticals (TEVA).
To divest risk, investors can consider ETFs such as the Fidelity MSCI Healthcare ETF (FHLC), which holds 3.1% of its total assets in Bristol-Myers Squibb.