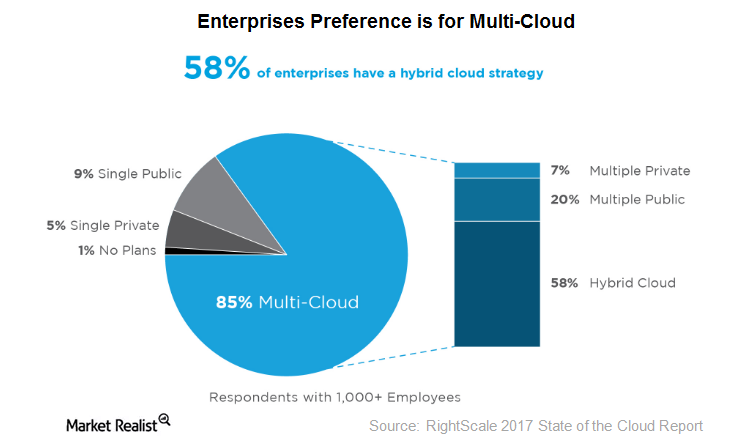 How Amazon's Outage Provided Opportunities to IBM and Oracle
AWS outage shocked mass faith in public cloud services
Earlier this month, Amazon (AMZN) suffered a setback when AWS (Amazon Web Services), its cloud computing platform, was hit by a temporary failure in its hosting platform. Slack, Trello, Splitwise, and Medium were just some of many apps that were affected by this outage.
According to Forbes, Amazon's AWS uptime stood at 99.59% on the day it suffered the outage. Though that's a respectable figure, it was lower than the company's 99.95% target. Uptime refers to the duration of the functioning of the service.
Article continues below advertisement
The outage put a question mark on the reliability of public cloud services, as pointed out by Patrick Moorhead, a Forbes contributor. Public cloud services are preferred by organizations and businesses alike, as they provide flexible, cost-effective solutions that enable access to newer technologies.
To save oneself from getting tangled up in these kinds of issues, Moorhead has suggested that adopting hybrid IT (information technology) is the best choice.
Scalability and flexibility are driving hybrid cloud adoption
Hybrid cloud technology offers a combination of features of two or more cloud models: private, community, and public. It provides the control and security of a private cloud along with the versatility, user-friendliness, and cost-effectiveness of a public cloud. It's preferred by organizations because even when using cloud services, they still have control over their data. Thus, hybrid cloud technology offers more control, more cost-structure efficiency, reduced risk, and better performance.
Hybrid clouds can connect the cloud to on-premises environments and are thus increasingly becoming a standard enterprise cloud configuration choice.
The increased adoption of hybrid cloud technology was evident in RightScale's 2017 report. According to the report, "The RightScale 2017 survey showed that enterprise multi-cloud and hybrid cloud adoption continues to grow, and even with that growth, challenges are decreasing."
According to the survey, compared to 82% in 2016, 85% of respondents in 2017 said that their organizations had diverse cloud strategies.
IBM (IBM) is a leader in the hybrid cloud space and is thus expected to benefit from the increased adoption of hybrid cloud technology.
Amazon, too, has been lured by the increased adoption of hybrid cloud technology. In 2016, Amazon announced a partnership with VMware (VMW) to gain a foothold in the hybrid cloud space.
Continue to the next article for a closer look at how Oracle (ORCL) aims to threaten Amazon's dominance in the overall cloud space.