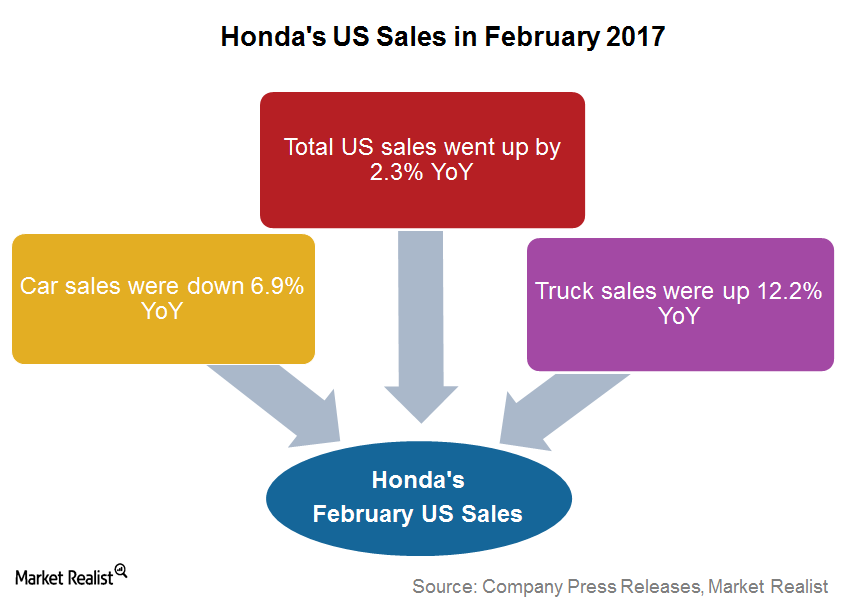 Honda's Strong US Truck Sales Keep the Optimism Alive in February
By Jitendra Parashar

Dec. 4 2020, Updated 10:53 a.m. ET
Honda Motor Company
Honda Motor Company (HMC) is the second-largest Japanese automaker after Toyota (TM). Honda is the world's largest internal combustion engine manufacturer by volume, and North America is its largest single market.
In fiscal 2016, North America accounted for 56% of Honda's total revenues. The Japanese automaker reports its annual results starting from April to March in the following year. Now, let's look at Honda's US sales for February 2017.
Article continues below advertisement
Firm truck sales
In February 2017, American Honda reported a year-over-year (or YoY) increase of 2.3% to 121,686 vehicle units from 100,497 units sold in February 2016. With this, Honda has been able to post a YoY increase in its US sales for the fourth consecutive month. In January 2017, the company's US sales also rose 5.9% to 106,380 vehicle units.
In January 2017, the company's US car sales dropped 6.9% YoY to 57,697 car units. At the same time, its truck sales rose 12.2% YoY to 63,989 vehicle units. Firm truck sales drove Honda's strong US sales in February 2017.
Honda manufactures a majority of its cars in the US and imports a small quantity from Japan to sell in the US market. The company's US manufactured car sales dropped 20.4% YoY in February. Its imported cars' sales stood at 11,116 units, much higher than 3,461 units sold in February 2017.
2016 sales
In 2016, America Honda Motor sold about 1.6 million units in the US market, a YoY increase of 3.2%. Honda was the only automaker among other mainstream automakers (XLY)—including General Motors (GM), Ford (F), and Toyota—that reported YoY gains in its fiscal 2016 car sales.
The company's car sales rose 1.1% YoY in 2016 while its truck sales for the year rose 5.6% on a YoY basis.
In the next part, we'll learn about Volkswagen's US sales in February 2017.