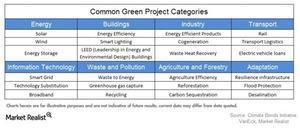 Green Bonds: What's behind the Name
By VanEck

Mar. 31 2017, Updated 3:39 p.m. ET
VanEck
What are green bonds?
A bond is generally considered to be "green" if the issuance proceeds are used solely to finance projects or activities that have a positive environmental impact. When issuers clearly indicate to investors how a green bond's proceeds will be used, the bond receives a "green label." Carbon emissions mitigation to combat global warming often comes to mind when discussing green bonds (and some use the term "climate bonds" interchangeably), but green bonds can also be used to finance other objectives as well.
Article continues below advertisement
What does the "green label" mean?
It should be noted that there is no market-wide, exhaustive list of green bond-eligible projects. Historically issuers have been able to assess whether a project is in line with climate mitigation or some other environmental goal and have "self-labeled" bonds as green. In many cases, such as building a solar or wind farm, this assessment is straightforward, and a green label would not be ambiguous. However, as market size and investor interest have grown there has been growing demand for independent third-party evaluations to verify that a green bond is, indeed, green.
Market Realist
Could green bonds be the game-changer?
A green bond (GRNB) isn't different from any conventional bond with the same risk-return profile. The only difference is that the proceeds from the issuance of a green bond are used solely to finance "green" projects, or those that are environmentally friendly. The focus of these projects is typically energy efficiency (VDE), renewables (QCLN), sustainable waste management, clean water, transportation (IYT), and biodiversity. The above graph shows the common project categories for green bonds.
The green label on a project is mainly decided by the International Capital Market Association's Green Bond Principles and the Climate Bonds Initiative's Climate Bonds Standard.
The green bond market started in 2007 by the EIB (European Investment Bank) and the World Bank. The market started kicking off in 2013 when corporates decided to participate and corporate green bonds were issued by EDF (Electricité de France), Bank of America (BAC), and Vasakronan.[1. source: Climate Bonds Initiative]
The market has gained popularity among investors. Many see it as a way to climate-proof their portfolios and still enjoy a diversified benefit. The market has grown considerably in the last ten years, as we saw in Part 1 of this series.
In the next part, we'll see the impact of the green label on investors.