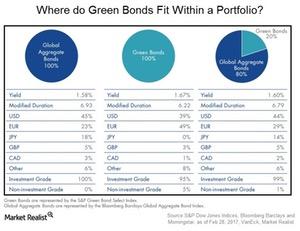 Where Green Bonds Could Fit into Your Portfolio
VanEck
The investment case for green bonds
Beyond the desire to "do good," is there an investment rationale for holding green bonds in an investor's portfolio? Given that there is no clear, systematic pricing difference between green bonds and conventional bonds, the case for holding green bonds begins with the rationale for holding any fixed income investment: primarily, income and relative safety versus other portfolio holdings.
Article continues below advertisement
Where do green bonds fit within a portfolio?
The green bond market, as measured by the S&P Green Bond Select Index, which represents the investable global green bond market and includes all issuer types (excluding tax-exempt U.S. municipal bonds) across countries and currencies, generally resembles a high quality, core global bond allocation. With over 50% of its holdings rated AA and above, and nearly 40% U.S. dollar denominated, as well as a yield and duration profile similar to the Bloomberg Barclays Global Aggregate Bond Index, the green bond market has a comparable risk and returns characteristics as the broad global bond market. As a result, replacing a portion of a core global bond allocation may have minimal impact to an investor's portfolio. Because of the differences in sector exposures, adding green bonds may increase the diversification of a global bond allocation. For example, supranational issuers represent approximately 20% of the green bond universe versus only 2% of the Global Aggregate Index.
Given the overall high quality of the green bond universe, the primary risks to an investor are interest rate and foreign currency risk. In addition, green bonds have exhibited low historical correlation to the broad U.S. fixed income market, suggesting potential diversification benefits within a U.S.-focused portfolio.
Market Realist
Advantages of investing in a green bond
As we've seen, green bonds add value to the environment. But they can also provide you with diversification benefits. The profile of green bonds is similar to conventional bonds. Green bonds have exposure to various sectors with environmentally friendly businesses and thus diversify an investor's portfolio. The risks of investing in green bonds are foreign exchange and interest rates.
In the above chart, you can see that adding green bonds to your portfolio keeps the risk-return profile similar to investing in the conventional bond market (BND) (AGG) (TLT) (SHY). Recently, VanEck launched a green bond ETF—the VanEck Vectors Green Bond ETF (GRNB). It tracks the performance of the S&P Green Bond Select Index.
In the next and final part of our series, we'll look at some climate-related risks and see how green bonds could be a potential hedge against them.