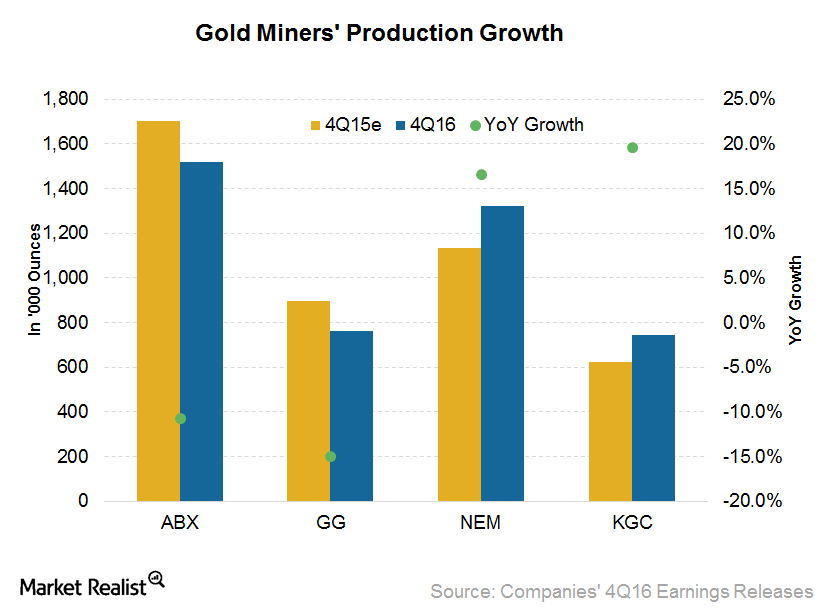 Inside Gold Production in 2016
By Anuradha Garg

Nov. 20 2020, Updated 3:30 p.m. ET
Fall in production
Goldcorp's (GG) gold production fell 16% YoY (year-over-year) in 4Q16 to 761,000 ounces. The company's management had guided for 2.8 million–3.1 million ounces of gold production in 2016. Its actual production came in at 2.87 million ounces, which was within the guided range. The company expects to see production growth of 20% to 3 million ounces in the next five years.
Article continues below advertisement
Increased guidance
In 4Q16, ABX's gold production was ~1.5 million ounces, a fall of 11.0% YoY. The fall was mainly due to asset sales in 2015 and 1Q16. Barrick's gold production guidance for 2017 is 5.6 million–5.9 million ounces, as compared to an actual production of 5.5 million ounces in 2016. This implies a YoY growth of 4.2%.
Newmont Mining's (NEM) gold production totaled 1.3 million ounces in 4Q16, which represents 17% growth YoY. The company's 2016 production totaled 4.9 million ounces, a gain of 7% YoY. Newmont maintained its steady gold production outlook of 4.5 million–5.0 million ounces for the next five years. In 2017, the company expects its production to increase to 4.9 million–5.4 million ounces.
Guidance lower than actual in 2016
Kinross Gold (KGC) produced 746,291 GEOs (gold equivalent ounces) in 4Q16. This represents a 20.0% YoY rise and a sequential rise of 9.0%. The YoY rise is mainly attributable to the acquisition of Bald Mountain and Round Mountain during the period. It has guided for a production of 2.5 million–2.7 million ounces in 2017. This would be consistent with its average production over the past five years.
Most miners (SGDM) (GDXJ), in fact, are trying to increase production. However, the sole focus on quantity has somehow shifted to quality ounces in safe jurisdictions. For this reason, while looking at near-term production growth is important, it's even more important to look at producers' medium- to long-term production growth. This impacts companies' mergers and acquisitions, exploration spending, and capital expenditure decisions.
In the next part of this series, we'll look at these variables for senior gold miners.