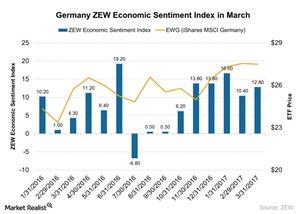 Why Germany's ZEW Economic Sentiment Index Is Improving
Germany's ZEW economic sentiment index
Germany's ZEW economic sentiment index (EWG) was at 12.8 March 2017. In comparison, it stood at 10.4 in February.
The index's level in March was above the market's expectation of 11.9. The data were released on March 14, 2017.
The index measures the optimism institutional investors and analysts have regarding Germany's current economic situation.
Article continues below advertisement
Economic impact
The index also reflects economic development expectations for the next six months. The above graph indicates that investor confidence has improved a great deal in Germany following its massive fall in the wake of the Brexit vote (EWU).
Germany is an important economy in the Eurozone. The improvements in its economic sentiment, manufacturing, and service activities are positive signs for the Eurozone (IEV) (VGK) (EZU).
If the index shows continuously improving figures for the next three to four months, we can assume that the German economy is back on track. However, in December 2016, the index remained stagnant.
The Eurozone's GDP was positive in 4Q16. Improvements in economic growth boosted investors' sentiments. However, the upcoming elections in Europe and the tensions surrounding the current scenario in the Italian banking system have dragged on the performance of the German economic sentiment index in recent months.
In the next part of this series, we'll see what indicators investors should look for going forward.