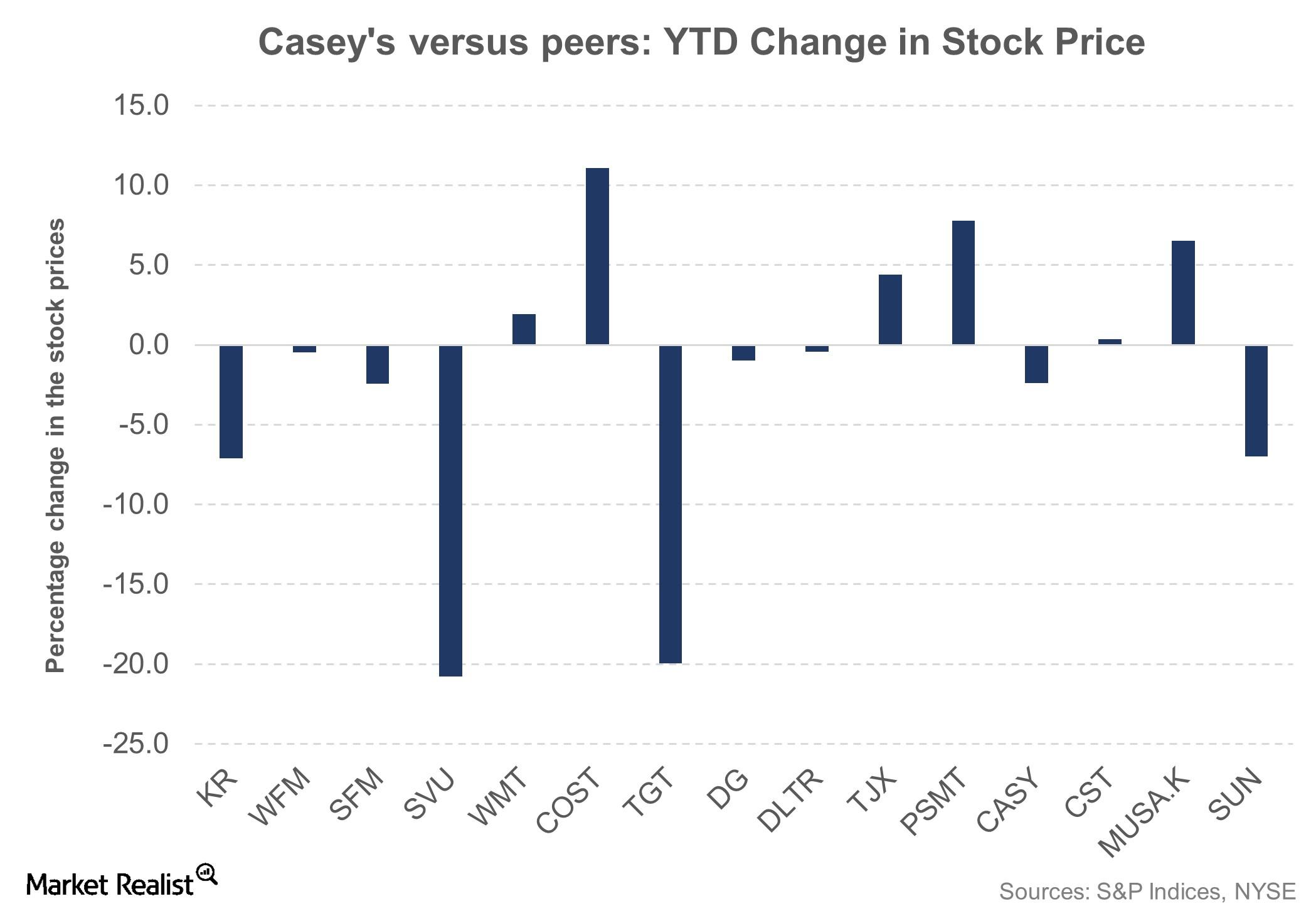 Gauging Casey's 2017 Stock Performance
By Sonya Bells

Mar. 3 2017, Updated 7:36 a.m. ET
Casey's stock performance
After delivering solid performances in 2014 (32% rise) and 2015 (33% rise), Casey's General Stores (CASY) stock lost around 1% of its value in 2016. Calendar 2017 has also not been a great year so far as the stock has fallen 2.5% year-to-date (as of March 1, 2017).
By comparison, convenience store and fuel station peers CST Brands (CST) and Murphy USA (MUSA) have managed to stay positive and have gained 0.4% and 6.5%, respectively, to date.
Article continues below advertisement
Casey's dividend payout
Casey is a consistent dividend-paying company, having paid a regular dividend since 1991. The company has a dividend payout ratio of 17%, meaning it distributes 17% of its earnings to investors via dividends. This is lower than other dividend paying retailers like Wal-Mart Stores (WMT) and Target (TGT), who have payouts of more than 35%.
Casey's has increased its dividend per share by ~46% over the last five fiscal years. In fiscal 2016, the company paid $0.88 per share in dividends, which was an increment of 10% over the previous year. The company's stock offers a one-year forward dividend yield of 0.7%, which is lower than those of Walmart (2.6%) and Target (4.3%).
Notably, investors looking for indirect exposure to Casey's can invest in the ProShares S&P MidCap 400 Dividend Aristocrats ETF (REGL), which has around 2.1% of its holdings invested in the company.
Continue to the next and final part of this series for a look at Wall Street's take on Casey's.