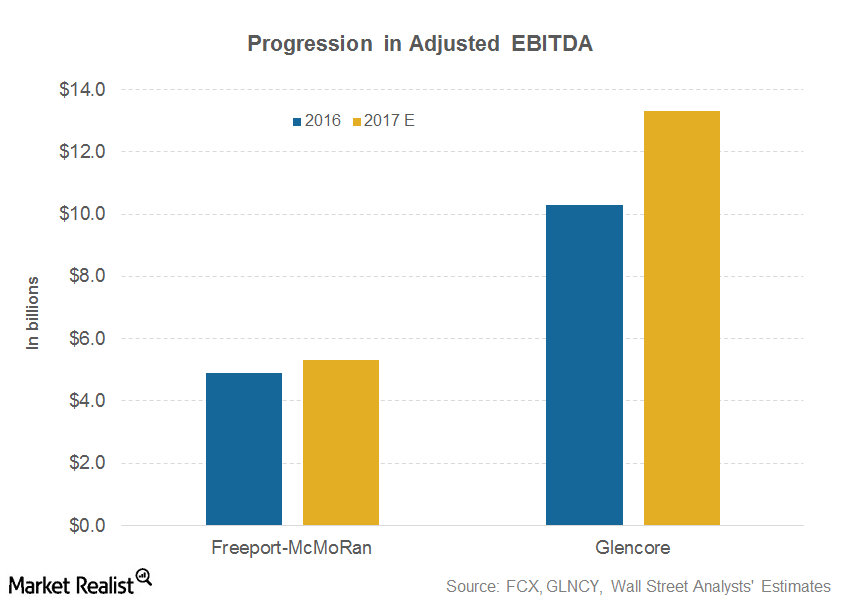 Freeport or Glencore: Which Company Looks Set for 2017?
By Mohit Oberoi, CFA

Dec. 4 2020, Updated 10:53 a.m. ET
2017
Previously, we looked at leading copper miners' 2016 EBITDAs (earnings before interest, tax, depreciation, and amortization). In this article, we'll look at their 2017 EBITDA estimates, which could help us to understand which companies could offer earnings upsides in 2017.
Article continues below advertisement
Freeport
According to data compiled by Thomson Reuters, analysts expect Freeport-McMoRan (FCX) to post an adjusted EBITDA of $5.3 billion in 2017, compared to $4.9 billion in 2016. Analysts expect Freeport's adjusted EBITDA to rise 8.2% year-over-year in 2017.
Freeport's earnings are sensitive to copper prices. The company expects its 2017 EBITDA to rise or fall $415 million for every $0.10-per-pound rise or fall in copper prices. Similarly, Freeport's EBITDA is expected to rise or fall $105 million for every $50-per-ounce rise or fall in gold prices.
Glencore (GLNCY) is expected to deliver an adjusted EBITDA of $13.3 billion in 2017, a rise of 29.1% compared to 2016. Wall Street analysts seem more optimistic about Glencore's earnings capacity compared to Freeport's.
Analysis
We should note that while Freeport is now mainly a copper producer, Glencore's operations are much more diversified. Glencore also sells zinc, agricultural products, coal, and energy. The company also has a marketing arm that complements its earnings capacity.
While copper prices have shown strength this year, most market participants are bullish on zinc in the near term. Furthermore, Freeport's 2017 earnings could be negatively impacted due to the ongoing impasse at Grasberg. Rio Tinto (RIO) (TRQ) is Freeport's partner at the Grasberg mine.
In the next article, we'll look at Southern Copper's (SCCO) 2017 EBITDA estimates.