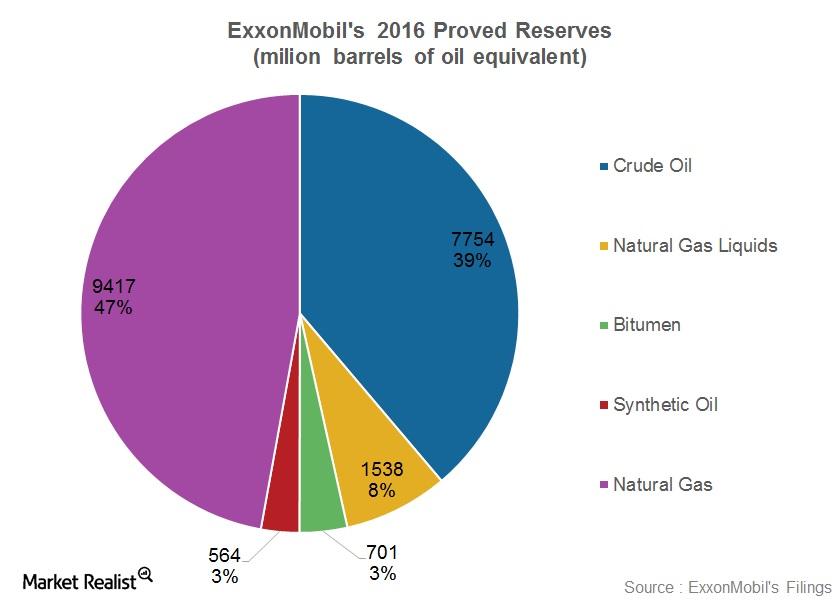 ExxonMobil's Proved Reserves: Beneath the Surface
By Maitali Ramkumar

Mar. 1 2017, Published 3:02 p.m. ET
ExxonMobil's proved reserves in 2016
ExxonMobil (XOM) has posted its proved reserves for 2016 at 19.9 Bboe (billion barrels of oil equivalent), which is about 3.3 Bboe lower than its 2015 proved reserves. The decline was mainly due to lower oil prices in 2016, which led many fields to fall out of the purview of proved reserves according to SEC (US Securities and Exchange Commission) guidelines. Of the 2016 reserves, 47% were natural gas reserves located across the US, Europe, Asia, and Australia.
In 2016, XOM's proved reserves were impacted by a large Kearl field in Canada that held 3.5 billion barrels of bitumen, and so the field's reserves didn't qualify as proved reserves in 2016. Another 0.8 Bboe in reserves in North America was out of the purview of proved reserves in 2016.
This deletion of proved reserves, however, was partially offset by the addition of 1 Bboe of reserves in the US, Kazakhstan, Papua New Guinea, Indonesia, and Norway.
Article continues below advertisement
Proved reserves estimation
In ExxonMobil's latest 10K filings, the company qualifies its "proved reserves" estimation as "an ongoing process based on rigorous technical evaluations, commercial and market assessments and detailed analysis of well and reservoir information such as flow rates and reservoir pressures." The company "only records proved reserves for projects which have received significant funding commitments by management made toward the development of the reserves."
Notably, the fields that did not qualify as proved reserves in 2016 could qualify in the future, but only if oil prices improve, costs decline, or operational capabilities enhance.
Peer reserves
ExxonMobil's RRR (reserves replacement ratio) stood at 65% in 2016, which is quite lower than in the past. The ratio shows that the amount of reserves added back into its reserve base in any year, as compared to the production of oil and gas that year.
By comparison, Chevron (CVX) had an RRR of 95% in 2016. Chevron's proved reserves stood at 11.1 Bboe in 2016, marginally lower than in 2015, when its reserves stood at 11.2 Bboe.
Notably, if you're looking for exposure to large companies, you might consider the SPDR S&P 500 ETF (SPY), which has ~7% exposure to the energy sector stocks, including XOM and CVX.
Series outline
In this series, we'll provide you with an update on ExxonMobil's (XOM) market performance. In the next few parts, we'll examine XOM's latest stock performance, followed by XOM's analyst ratings, its dividend yield trend, beta position, short interest changes, institutional ownership status, and implied volatility movements. We'll wrap up the series with a look at XOM's valuations and correlation to oil.
Continue to the next part now for a look at XOM's recent stock movement.