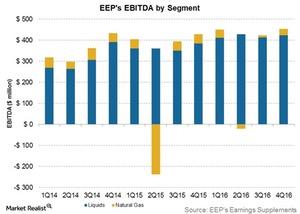 EEP by Segment: Charting the Top Performers
EEP's Liquids segment
Enbridge Energy Partners (EEP) carries out its operations through two reportable segments: Liquids and Natural Gas. EEP's Liquids segments adjusted EBITDA (earnings before interest, tax, depreciation, and amortization) for 4Q16 rose 10% over 4Q15. This EBITDA growth was mainly driven by an increase in EEP's Lakehead system deliveries attributable to new projects placed into service during 2016.
Enbridge Energy Partners' Liquids segment transports crude oil and NGL (natural gas liquids) from reserves. The segment generates revenue through rates charged per barrel to gather, transport, or ship the crude oil or liquid petroleum.
Article continues below advertisement
Mark Maki, EEP's President, stated the following in a press release related to the company's 2017 financial guidance: "Our Liquids Pipeline business, on the whole, is performing well financially and operationally. In particular, the Lakehead volumetric performance remains at record levels. EEP unitholders will continue deriving value from these unique and critical infrastructure assets in the short-term and long-term."
Natural Gas segment
As the above graph shows, the contribution of the Natural Gas segment to EEP's EBITDA has been relatively small. The Natural Gas segment's adjusted EBITDA fell in 4Q16 on a YoY (year-over-year) basis. The decrease was primarily driven by lower natural gas and NGL system volumes. Enbridge Energy Partners' natural gas assets are owned by Midcoast Energy Partners (MEP).
The segment's volumes have been decreasing primarily due to the continued low commodity price environment, which has resulted in reductions in drilling activity from producers in Enbridge Energy Partners' areas of operations.
Now let's look at EEP's contract structures.