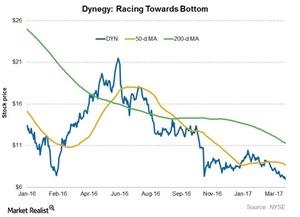 What Do Dynegy's Chart Indicators Show?
Chart indicators
Let's look where Dynegy (DYN) stock could go in the short term. There isn't a high chance of the stock recovering anytime soon. It trades at a deep discount to its moving average levels. On March 22, 2017, Dynegy was trading 20% and 38% below its 50-day and 200-day moving average levels, respectively.
The stock's 50-day moving average, or levels around $8.70, might act as a resistance in the short term. Currently, Dynegy stock is below its previous lows in February and November 2016.
Article continues below advertisement
Relative strength index
Dynegy's RSI (relative strength index) stands at 28. The big fall on March 22, 2017, pushed the stock into the oversold zone. Investors might see renewed interest considering the oversold position.
An RSI is a momentum indicator made up of values between 0 and 100. Movements below 30 are in the "oversold" zone, while movements above 70 are in the "overbought" zone. RSI values at the extremes can hint at an imminent reversal in the stock price.
Merchant power producers have been under tremendous pressure in the last few years due to many factors. Dynegy, NRG Energy (NRG), and Calpine (CPN) are few of the leading merchant power players in the US. Read Will Merchant Power Stocks Be Less Volatile This Year? to know which company is a better investment option.